I've been making this recipe for many years. It's a really easy and delicious meal that can be pulled together quickly! It's really great comfort food for a cool evening – warm, tasty, creamy AND crunchy!  My copy was handed down by grams and was probably a Campbell's Soup label recipe originally that was shared by her grandmother's club.  I've been seeing versions of it pop up around social media and pinterest A LOT lately.  My version has been changed up A LOT, but hubby ALL but licks his plate when I make it.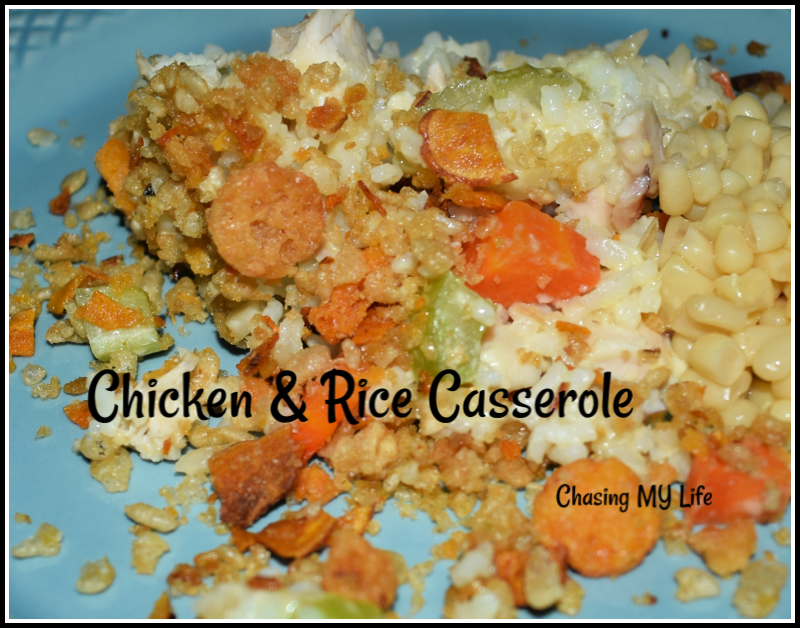 WEEKNIGHT CHICKEN CASSEROLE
3 cups of diced rotisserie chicken
1 can cream of chicken soup or soup substitute
2½ cups cooked rice
½ cup sliced almonds or cashews
½ cup mayonnaise
1/4 cup Frank's Hot Sauce (optional)
¾ cup diced celery (about 3 stalks)
2 medium carrots, peeled and diced
3/4 cup crushed potato chips (see notes) OR corn flakes, crushed into small pieces
2-3 tablespoons butter, melted
Preheat oven to 350°.
Toss chicken pieces with hot sauce.
Place carrots in a microwave safe bowl and add 2 tablespoons of water.  Cook 1 minute so carrots begin to soften.
Combine all ingredients together a spread into a greased 9×13 baking dish.
Combine the crushed chips with the melted butter and sprinkle evenly over the casserole.
Bake for 30-40 minutes or until casserole is heated through.
NOTES:
You can really change up the flavor by using different flavored rotisserie chicken or different flavored potato chips. I also like to use sweet potato chips 😀 or sometimes, crushed saltines or rice krispies or ANY combo of the above!
We like to serve it with either shoepeg corn or green beans to round out the veggies 😀