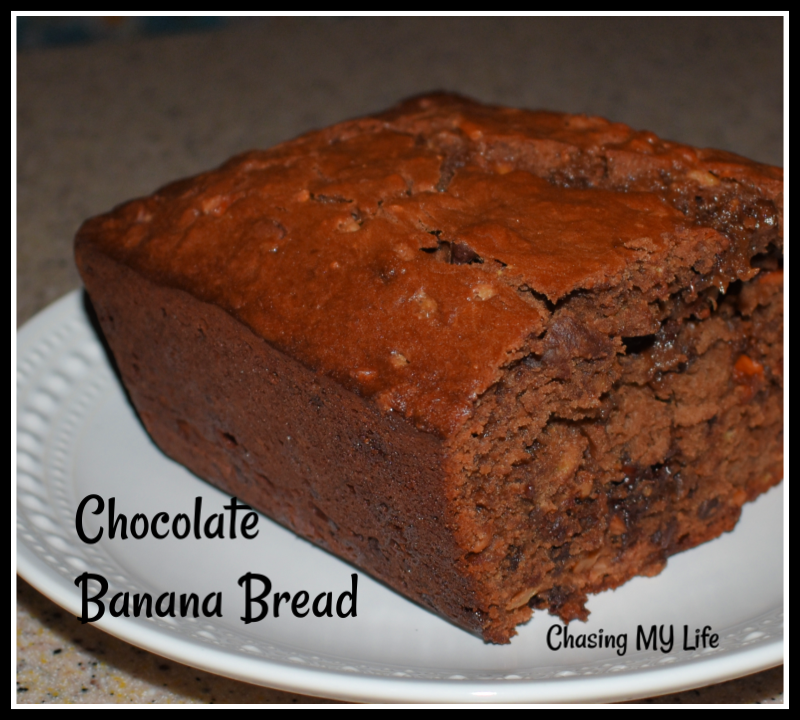 CHOCOLATE BANANA BREAD
2 cups flour
1/4 cup unsweetened cocoa
1/2 teaspoon baking soda
1/2 teaspoon baking powder
1/2 teaspoon sea salt
1 cup sugar
1/2 cup butter, softened
2 LARGE eggs, lightly beaten
1 1/4 cup mashed bananas (about 3 medium)
1 teaspoon butter vanilla emulsion
1/4 cup whole milk
1/2 cup chopped walnuts
3/4 cup mini chocolate chips
Preheat oven to 350°.
Spray large (9×5 inch) loaf pan with non-stick cooking spray. Set aside.
In a large mixing bowl sift together the flour, cocoa, baking soda, baking powder and salt. Set aside.
In another mixing bowl cream together the butter and sugar until creamy.
Add eggs and mix well.
Add bananas, vanilla emulsion and milk, blending JUST until combined.
Fold in nuts and chocolate chips with a wooden spoon or spatula.
Pour into prepared pan.
Bake 1 hour or until tester comes out clean.
Let cool on rack 30 minutes before slicing.