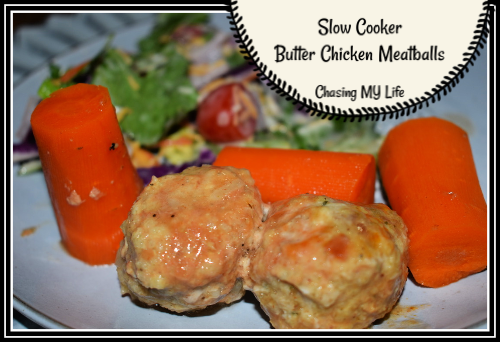 SLOW COOKER BUTTER CHICKEN MEATBALLS
1 pound ground chicken
1/2 pound ground pork
1 LARGE egg, lightly beaten
1 teaspoon garam masala
2 cloves garlic, minced
1/2 teaspoon paprika
1/4 teaspoon cayenne pepper
FRESH ground sea salt and black pepper
Mix everything together until well blended.
Form into 1 inch meatballs. It will make about 36.
Coat the slow cooker insert with non-stick cooking spray.
Place meatballs in the slow cooker.
Prepare sauce.
SAUCE
1 small shallot, minced
2 tablespoons butter
2 tablespoons Wondra
1/2 cup chicken stock
8 ounces tomato sauce
Heat butter in small skillet over medium heat.
Whisk in flour until golden.
Whisk in chicken stock until well blended.
Whisk in tomato sauce until well blended.
Season to taste.
Pour sauce over meatballs.
Cook covered on low for 3 hours  or until cooked through.
Serve with rice or mashed potatoes.