This is the perfect spring salad full of sweet and tangy fruit and asian blended flavors.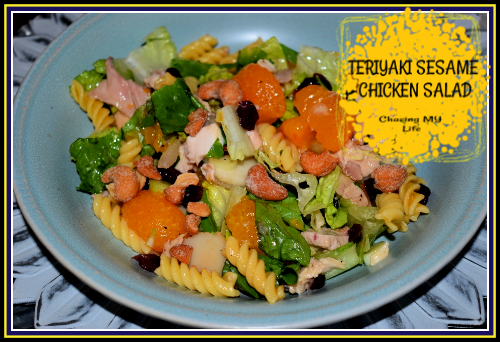 TERIYAKI SESAME CHICKEN SALAD
16 ounces fusilli pasta, prepared per package directions and WELL drained
1/2 cup avocado oil
2/3 cup champagne vinegar
2/3 cup teriyaki sauce
Juice of 1 large lemon
1/3 cup sugar
FRESH ground black pepper, to taste
2 cans mandarin oranges, WELL DRAINED
2 small cans water chestnuts, WELL DRAINED
2 cups shredded rotisserie chicken
1 1/2 cups honey roasted peanuts or cashews
2 cups torn baby spinach leaves or romaine lettuce
5 ounces dried cranberries (Craisins)
1 large bunch green onions, sliced
1/2 cup minced parsley
1/4 cup sesame seeds
Add prepared pasta and chicken pieces to a large salad bowl.
In a small bowl whisk together the avocado oil, vinegar, teriyaki sauce, lemon juice, sugar and pepper.
Pour over pasta and chicken, tossing to coat well.
Top with mandarin oranges, water chestnuts, cranberries and green onions.
Cover and refrigerate 2 hours.
Just before serving add cashews, tossing well to mix.