Hubby loved his grandmother's potato salad and kept asking me to make some like it.  It took me quite awhile to perfect this potato salad for hubby, but I FINALLY got there a few years back.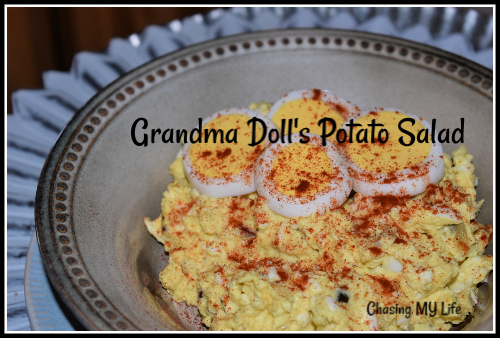 GRANDMA DOLL'S POTATO SALAD
3 pounds Yukon gold potatoes, baked and cooled
4 hard boiled eggs, chopped
1 small red onion, chopped
2 large kosher dill pickles, chopped AND their juice
2 tablespoons dill relish
Lots of mustard
A little mayonnaise
salt and pepper to taste
Grate potatoes in a large mixing bowl.
Add eggs, onion, pickles, pickle juice and relish, mixing to blend well.
Add mustard and mayonnaise to taste and desired consistency.
Add seasonings to taste.