Be sure to join us and link up with
Sandra at Diary of a Stay at Home Mom for Happy homemaker Monday
and with Laura at I'm an Organizing Junkie for Menu Plan Monday.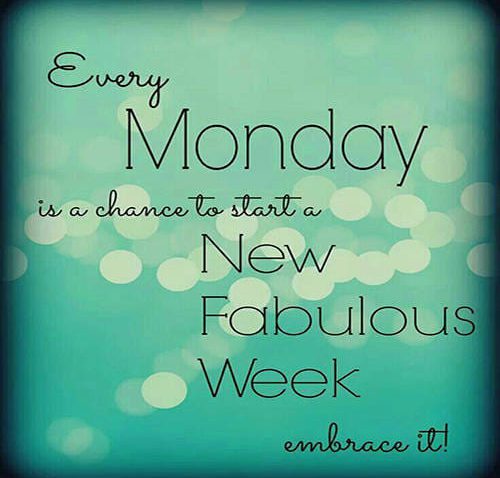 GOOD MORNING sweet friends.  I hope you have all had as great a week and weekend as we did.  The weather has been PERFECT and even though I haven't gotten everything accomplished I wanted to, I did get enough done for now. 🙁

OUTSIDE MY WINDOW & THE WEATHER OUTSIDE & WHAT I'M WEARING The weather has been unusually warm for this time of year here and unseasonably dry too, but after such a wet winter I'm not complaining. 
That said, I'm glad we leave on our trip later this week and the temperatures will be cooler which I soooooo much prefer. Note the 29 degree difference on Thursday.

We're going to take the last trailer full of wood to the re-cycler (there's a local guy who will chip up all the cedar pickets into mulch) so I have on old Levi's, a t-shirt and pops. Then I'll change to head into town for errands.
ON THE BREAKFAST PLATE Peach yogurt, hot water and a banana.
AS I LOOK AROUND THE HOUSE, WEEKLY TO DO LIST, HOUSE & CRAFT PROJECTS, APPOINTMENTS

LAUNDRY…

one load before we go



LIVING AREAS…

a bit of tidying



KITCHEN…

pretty clean



YARD…

YAY! hubby finished the fence!



BLOG…

nothing much for a couple weeks while we travel



CRAFTS/PROJECTS…

nothing at all for a few weeks



APPOINTMENTS…

Tire rotation, fill up on gas, pedicure, mammogram



TO DO…

last minute errands,

pack…



ON MY MIND / THINGS THAT ARE MAKING ME HAPPY We leave later this week for our family reunion trip later this week and we're REALLY getting excited!  We have a side trip planned on the way there AND on the way back besides visiting with hubby's elderly father.

SOMETHING INTERESTING I WATCHED We rented Serenity with Matthew McConaughey, Anne Hathaway, Jason Clarke and Diane Lane.  Such a different part for MATTHEW!

I'M READING Kristin Hannah's Night Road that my friend Heather loved and recommended I read.  It will be perfect for vacation 😀
WHAT IS ON THE DVR, I LIKE OR ON THE LIST TO WATCH things will build up while we're on our trip so I'll sort it out later 😀

FAVORITE PHOTO FROM THE CAMERA Hubby finally finished the fence!!! What a feat.  This was the last leg of the 300+ linear feet.  Fortunately the 100 feet to his right was done 4 years ago by our neighbor.   His feet are killing him from working in the rocks so our vacation is well timed.

INSPIRATION

HEALTH & BEAUTY TIPS
HOMEMAKING/COOKING TIP
MENU PLANS FOR THE WEEK
MONDAY – TACO CASSEROLE & SALAD
TUESDAY – C.O.R.N.
WEDNESDAY – C.O.R.N.
THURSDAY – ??
FRIDAY – ??
SATURDAY – ??
SUNDAY – ??
SUCCESSFUL RECIPE LINKS FROM LAST WEEK