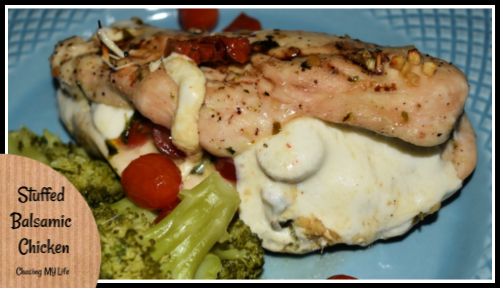 STUFFED BALSAMIC CHICKEN – servings 4
Stuffed Balsamic Chicken is a twist on the more traditional Caprese salad. The hicken breasts are filled with both fresh AND Sun Dried Tomatoes for a flavor packed punch!
4 boneless, skinless chicken breasts
FRESH ground salt and pepper, to season
1 teaspoon dried oregano
1 teaspoon dried basil
2 roma tomatoes, thinly sliced**
1/4 cup sun dried tomatoes in oil, cut into strips (reserve oil)
4 thick slices mozzarella cheese
12 basil leaves**
4 cloves garlic, minced
1/3 cup QUALITY strong balsamic vinegar
2 tablespoons brown sugar
Preheat oven to 350°.
Slice a pocket about 3/4 quarter of the way through on the thickest side of each breast, being careful not to cut all the way.
Generously season chicken with salt, pepper, and dried herbs.
Pour 1 teaspoon of sun dried tomato oil over each breast, rubbing some of the seasoning inside the pockets.
Fill each chicken breast with 2 slices fresh tomato, 2 teaspoons of sun dried tomato strips, one slice mozzarella cheese and 3 basil basil leaves.
Seal with 3-4 toothpicks diagonally to keep the filling inside while cooking.
Heat 2 teaspoons of sun dried tomato oil (or olive oil) in a skillet or non stick, oven proof pan (preferably cast iron) over medium-high heat.
Add the chicken and sear for 2 minutes on each side until golden.
While the chicken is cooking, whisk together the garlic, balsamic vinegar and brown sugar in a small bowl.
Pour the mixture into the pan around the chicken; bring to a simmer while stirring occasionally, until the glaze has slightly thickened, about 2-3 minutes.
Transfer pan to the preheated oven and continue to cook for a further 10-15 minutes, or until the chicken is cooked through and the cheese has melted.
Remove toothpicks and drizzle with pan juices.
NOTE** In a pinch I use sliced grape tomatoes and Garden Gourmet basil paste and see no flavor difference in the overall taste.