PORK TENDERLOIN with BOURBON PEACH SAUCE with PARSLEY SLAW
TENDERLOIN
1 pound pork tenderloin
2 tablespoons avocado oil
FRESH ground sea salt and black pepper
2 cups sliced peaches
2 tablespoons QUALITY bourbon
1 tablespoon apple cider vinegar
1 tablespoon QUALITY honey
1 tablespoon unsalted butter
1 tablespoon Dijon mustard
Heat oil over medium high heat.
Generously season the pork tenderloin.
Add pork to skillet and sear on all sides until completely browned and cooked to 140°, about 5-6 minutes per side.
Transfer to a plate and keep warm.
Add peaches to pan, stirring 2-3 minutes to cook through.
Whisk together the bourbon, vinegar, dijon and honey. Add to peaches, stirring 5minutes until slightly thickened. Remove from heat and stir in butter.
Plate pork and top with peach sauce.
Add a generous side of slaw and enjoy!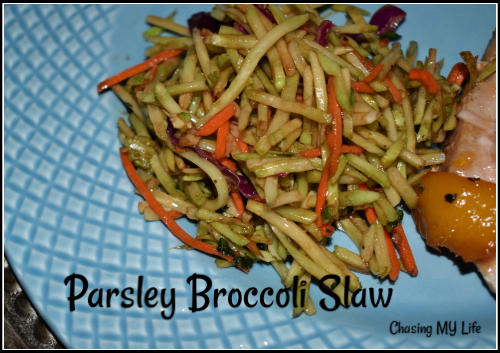 PARSLEY BROCCOLI SLAW
3 cups broccoli sticks bag mix
1/4 cup chopped flat leaf parsley
2 tablespoons chopped FRESH thyme
1/3 cup toasted almond slices
1 tablespoon avocado oil
2 tablespoons apple cider vinegar
1 tablespoon Quality honey
Toss together the cabbage, parsley, thyme and almonds.
Whisk together the oil, vinegar and honey.
Drizzle dressing over slaw mixture and toss well.