I am NOT a fan of Okra. In fact, I absolutely HATE, HATE, HATE OKRA!!!!!!! So, this version of gumbo has NO okra in it!! The thickening is done with a toasted flour roux instead.  Gumbo is usually served with dirty rice in many places, but hubby really likes it over a creamy mashed potato.
This is a labor intensive recipe with chopping so many times I prep the day before. While I'm chopping, I toast the flour so it has plenty of time to cool. If storing overnight, be sure to store the flour in an airtight container.
I also use a ladle as well as a slotted spoon to serve so everyone can have as much or as little gravy as they like. 😀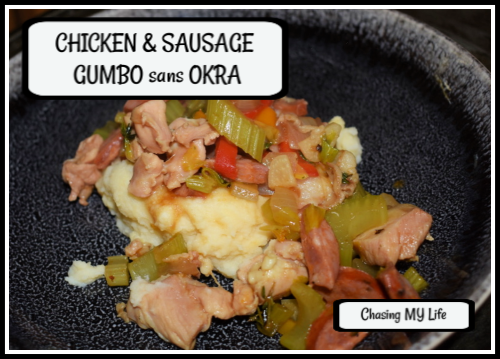 CHICKEN & SAUSAGE GUMBO sans OKRA
1 cup all purpose flour
1 tablespoon avocado oil
1 onion, finely chopped
1 each red, orange and yellow mini pepper, seeded and finely chopped
2 celery stalks, finely chopped
1 tablespoon FRESHLY minced thyme
3-4 cloves garlic, finely minced
1 teaspoon smoked paprika
1/2 teaspoon cayenne pepper
FRESH ground sea salt and black pepper
2 bay leaves
4 cups chicken broth
4 slices bacon, cut into thin strips
2 pounds boneless, skinless chicken thighs, trimmed of fat and cut into bite sized pieces
1/2 pound Andouille sausage, halved and sliced 1/4 inch thick
1 bunch green onions, sliced thin
1 tablespoon melted butter
1 tablespoon vinegar
Prepared rice or mashed potatoes
Frank's original hot sauce
Heat oven to 425°.
Place flour in an oven safe skillet and bake, stirring frequently, 40-55 minutes until the color of cinnamon and has a nutty fragrance.
Transfer flour to a bowl and allow to cool.
Heat oil in dutch oven over medium heat until it shimmers.
Add bacon and cook until bacon is rendered and beginning to crisp up.
Add onions, bell peppers and celery, cooking 5-7 minutes, stirring frequently until softened.
Stir in thyme, garlic, paprika, bay leaves, cayenne pepper, salt and pepper, stirring until fragrant.
Stir in 2 cups of broth.
Reduce heat to low, cover and simmer 30 minutes.
Whisk together the melted butter with the remaining broth.
Slowly and gradually whisk the flour into the broth mixture until a smooth batter like paste is formed.
Increase heat to medium high.
SLOWLY whisk the paste into gumbo making sure each addition is COMPLETELY incorporated before adding more.
Stir in chicken pieces.
Simmer uncovered 25 minutes.
Discard bay leaves if using.
Stir sausage pieces and green onions into gumbo and slowly simmer 5 minutes to heat through.
Remove pot from heat and stir in vinegar.
Adjust seasonings.
Serve over rice with hot sauce.
NOTES:
When toasting the flour, obtaining the "cinnamon" color is key to the flavor.
I like to use cheesecloth seasoning bags for the bay leaves to make them easier to fish out at the end.  Bay leaves can also be eliminated with a thyme and oregano combination.  For each bay leaf substitute 1/4 teaspoon dried oregano and 1/4 teaspoon dried thyme.
Most recipes call for green pepper, but green pepper and I are NOT on speaking terms so I substitute mini peppers, one in each color, orange, red and yellow.