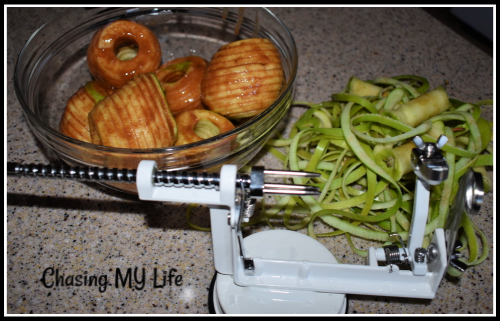 My sister-n-law found this new apple slicer.  It peels, cores AND makes long spiral slices of apple.  I LOVE my new tool 😀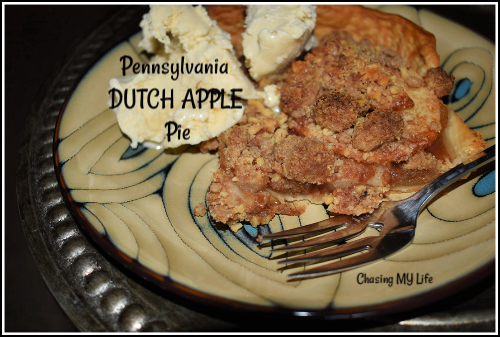 PENNSYLVANIA DUTCH APPLE SLAB PIE
1 large batch of your favorite pie crust
FILLING
5-6 Granny smith apples, peeled, cored and sliced
2 tablespoons lemon juice
1/4 cup sugar
1/2 cup packed brown sugar
3 tablespoons WONDRA flour
1/2 teaspoon cinnamon
1/4 teaspoon nutmeg
1/4 cup golden raisins
Preheat oven to 375°.

Toss apple pieces with lemon juice and set aside for 15 minutes.

Whisk together the sugars, flour, cinnamon and nutmeg.

Drain apples.

Toss apples and raisins in dry mixture until evenly coated.

Arrange pie crust on jelly roll pan.

Top with apple mixture and spread evenly.

Sprinkle topping evenly over apples.

Bake 25-30 minutes. WATCH edges and cover in foil if necessary so they don't burn.

Serve with vanilla bean ice cream.
TOPPING
3/4 cup all purpose flour
1/4 cup sugar
1/4 cup packed dark brown sugar
1/3 cup butter, softened
1/2 teaspoon cinnamon
1/3 cup finely chopped candied walnuts
Use a pastry blender to create a coarse crumble.
CANDIED WALNUTS or PECANS
1 cup chopped walnuts
1/4 cup brown sugar
2 tablespoons butter
In a non-stick skillet melt butter.

Add brown sugar, stirring to dissolve.

Add nuts, continuously stirring to coat well and cook for 5 minutes.

Transfer to parchment paper and separate nuts immediately so they don't clump.

COOL COMPLETELY.

Store in air tight container.