I found the original recipe at Walnuts.org and it really inspired me to do some summer seafood recipes even if I did alter it to meet our tastes.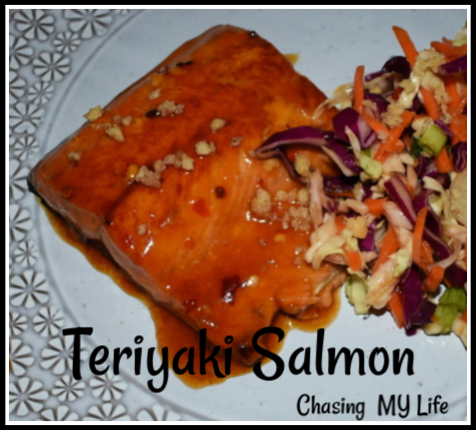 TERIYAKI SALMON with ASIAN WALNUT SLAW
Grilled salmon topped with a colorful tangy cabbage and carrot slaw, and garnished with fresh cilantro and toasty California walnuts.  One of the best parts is that the marinade is used for the salmon AND as the dressing for the slaw making the two parts of the dish blend seamlessly!
MARINADE
scant 1/2 cup sweet chili sauce
scant 1/2 cup thick teriyaki sauce
1/3 cup champagne or apple cider vinegar vinegar
4 (4 to 6 ounce) salmon fillets
3 tablespoons finely chopped and toasted candied walnuts
2 tablespoons finely chopped cilantro
In a shallow dish stir together chili sauce, teriyaki sauce and vinegar.  Set aside 1/3 cup for the slaw.
Place salmon in dish skin side up and let marinate for 30 minutes.
Over medium to high heat grill salmon for 3 to 5 minutes depending on thickness.
Flip and pour marinade over and around the salmon, cooking another 3-5 minutes until cooked to your liking and marinade is bubbling.
Transfer to a platter and top with cabbage mixture.
Sprinkle with walnuts and cilantro.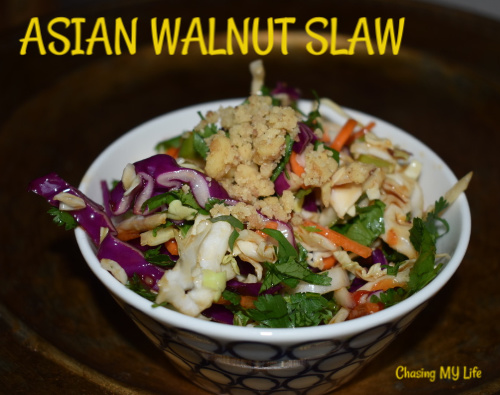 SLAW
1 cup shredded or thinly sliced purple cabbage
1 cup coarsely shredded green cabbage
1/2 cup carrot sticks
2 medium green onions, sliced
1/2 cup finely chopped and toasted candied walnuts
Fresh cilantro leaves, torn
Toss together cabbages, carrots, green onions and half the walnuts with reserved marinade and refrigerate.