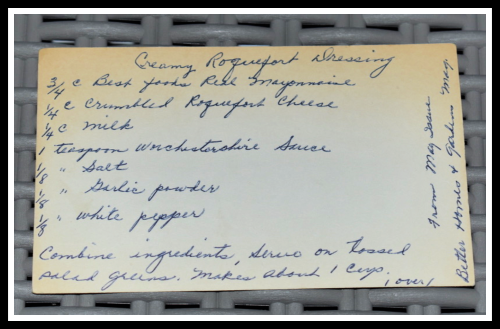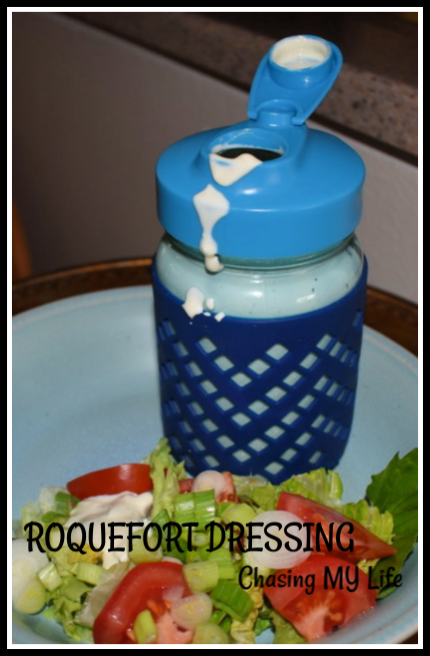 CREAMY ROQUEFORT DRESSING
I truly LOVE adapting old historical recipes to a modern day scratch versions. Many times I already have a version of the recipe in my own stash.  But, using the older recipe as a guide I can pick and choose ALL of the best  ingredients to make an even better recipe.
I "adjusted" the recipe to include actual amounts and specified ingredients as the recipe card is vague.  I left the ingredients with approximate amounts to account for personal tastes.  I highlighted my adaptations in blue so you can see the differences from the original recipe.
3/4 cup Duke's Mayonnaise
scant 1/3 cup crumbled Roquefort cheese
1/3 + cup WHOLE milk
1 teaspoon Worcestershire sauce
1/8 teaspoon salt
1/8 teaspoon Garlic powder
1/8 teaspoon white pepper
Whisk mayonnaise, milk, Worcestershire sauce, salt, pepper and garlic powder together.
Fold in crumbled cheese.
Chill.
NOTE:
Hubby loves the larger crumble of the cheese, while I prefer a smoother dressing. Adjust the instructions to use a small food processor if you too prefer the smooth version. 😀

Add additional milk as necessary for desired consistency.