There are so many different provinces in China and different versions of this same chicken dish. This combination of veggies and flavors is one of our favorites.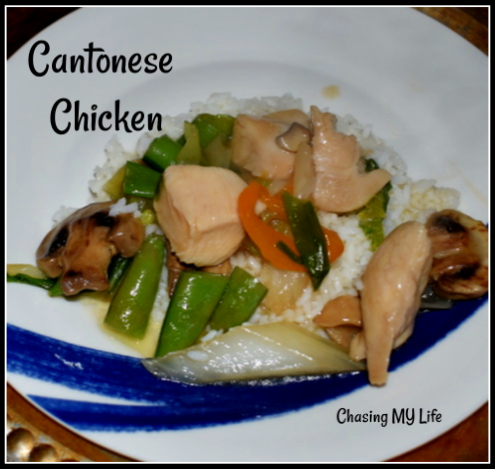 CANTONESE CHICKEN serves 4
1 1/4 pound chicken tenders cut into 1-1 1/2 inch pieces
1/2 cup oyster sauce
2 tablespoons cornstarch
3 tablespoons water
2 tablespoons peanut oil
1 LARGE bunch green onions, sliced in large diagonal
2 large carrots, sliced thinly on the diagonal
8 thin slices, peeled garlic
1-2 cups sliced mushrooms (see note)
1/2 pound Bok Choy, sliced 1 1/2 inches long diagonally
1 1/4 cup chicken broth
2 teaspoons BRAGG's liquid aminos
2 teaspoons toasted sesame oil
Prepared rice
Toss chicken with oyster sauce and BRAGG's liquid aminos.
Whisk together cornstarch and water.
Heat wok and peanut oil until hot.
Add carrots, stir frying 2 minutes.
Add green onions, ginger and garlic, stir frying 20-30 seconds.
Add chicken mixture and stir fry 2-3 minutes until chicken is cooked through.
Add mushrooms and bak choy.
Add chicken broth and sesame oil.
Bring to a boil over high heat.
Add cornstarch mixture and return to boil, stirring constantly for 2-3 minutes until chicken is completely cooked through, sauce thickens and is glossy.
Serve over rice.
NOTE: I like beech mushrooms as you can leave them whole and they have a wonderful nutty flavor.