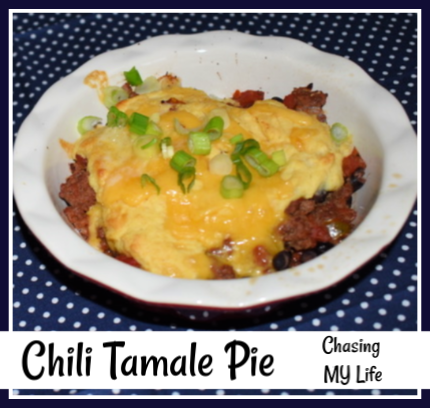 CHILI TAMALE PIE
1 1/2 pounds ground beef
1 small red pepper, chopped
1 small onion, finely chopped
3 cloves garlic, finely minced
1 tablespoon chili powder
1/2 teaspoon salt
1 can black beans, drained and rinsed well
2 1/2 cups mild enchilada sauce
1 can shoepeg corn, drained
12 corn tortillas
2 cups shredded cheese (cheddar and Jack)
1 Jalapeno pepper, optional
Preheat oven to 375°.
Spray 2 quart baking dish with non-stick cooking spray.
Start browning ground beef in large skillet over medium high heat.
Add onions, garlic, chili powder and salt cooking 5 minutes or so, stirring often.
Add beans and half of the sauce, bring to a boil.
Reduce heat, cover and simmer 10 minutes.
Add corn and return to simmer 5 minutes.
Remove from heat.
Spread half of the remaining sauce in the baking dish.
Top with 4 tortillas, overlapping as needed.
Top with half the cheese followed by half the filling mixture.
Add 4 more tortillas.
Repeat layering with 1/2 cup cheese and remaining filling.
Top with last 4 tortillas, remaining sauce, remaining cheese and jalapenos if using.
Grease one side of a sheet of foil and place greased side on top of baking dish.
Bake 20 minutes.
Uncover and bake 5 more minutes.