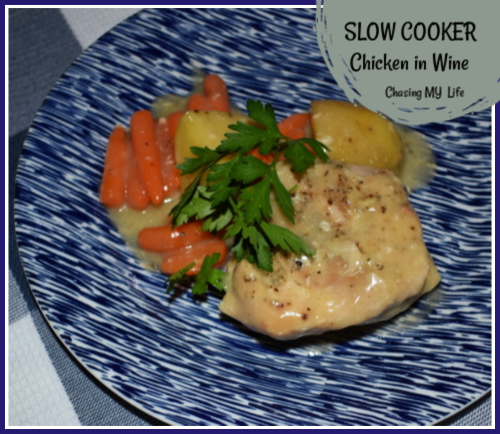 SLOW COOKED CHICKEN IN WINE
2-3 pounds chicken thighs
FRESH ground sea salt and black pepper
1 can Cream of chicken soup or soup substitute
1 cup chicken broth
1 cup white wine
1 potato per person, halved and quartered into bite size pieces.
2 cups baby carrots
Chopped Parsley, garnish
Whisk together the broth, wine and soup.
Spray slow cooker insert with non-stick cooking spray.
Pour soup mixture into slow cooker insert.
Generously season chicken thighs.
Place chicken thighs in soup mixture and cover.
Cook on high 4-6 hours.
Add potato pieces and carrots.
Recover and cook 1 hour more on low.
Serve over rice pilaf or mashed potatoes.
NOTE: If sauce is too thin when you add potatoes and carrots add a quick corn starch slurry.