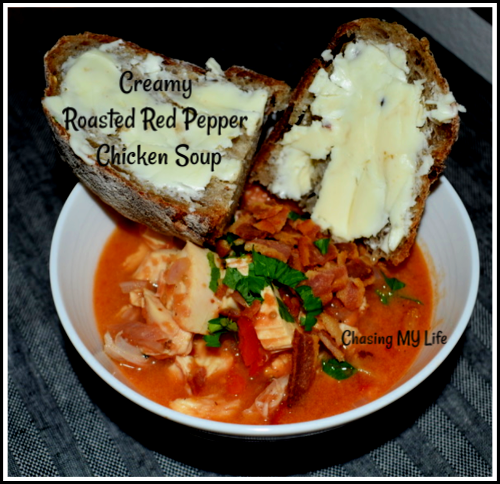 CREAMY ROASTED RED PEPPER CHICKEN SOUP
3 pounds small hot house tomatoes
1 red bell pepper
avocado oil
½ red onion
¼ cup chopped parsley
3 cups diced rotisserie chicken
3 tablespoons caramelized balsamic vinegar
FRESH ground sea salt and black pepper
½ cup half and half
1 cup chicken broth
2 tablespoons butter
Crumbled bacon for garnish
Halve and seed red pepper.
Holding pepper with tongs roast pepper halves over burner flame. Set aside to cool.
Small dice the red onion.
Small dice the red pepper.
Bring a large pot of water to a boil.
Fill a large bowl with ice water.
Cut an X in the bottom of each tomato.
Add tomatoes to boiling water and reduce heat to medium. Cook for 2 minutes or until skins break.
Using a slotted spoon immediately transfer tomatoes to ice water.
When cool enough to handle, peel the skins off and place tomatoes in a bowl.
In a small stock pot heat avocado oil.
Add onion, cooking a minute or so to soften.
Add red pepper and cook 2-3 minutes until soft and oil is absorbed.
Add parsley.
Using an immersion blender, cream tomatoes.
Add tomatoes to pan, stirring to blend well.
Season to taste.
Add vinegar and chicken broth, blending well. Cook 5-10 minutes.
Add half and half, stirring to blend.
Fold in chicken pieces.
Add butter, stirring until melted and blended well.