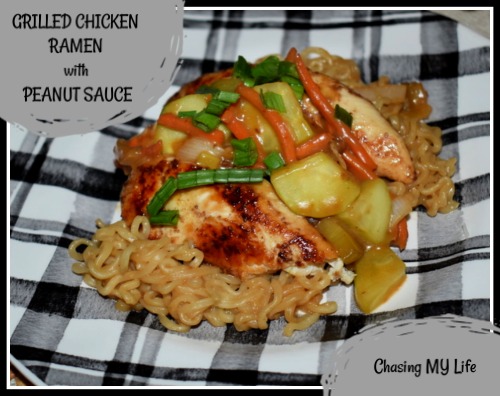 GRILLED CHICKEN RAMEN with PEANUT SAUCE
3-3 ounce packages of Ramen
2 (1+1) tablespoons avocado oil
1 1/2 pounds boneless, skinless chicken tenders
1 English cucumber, quartered lengthwise and then cut into pieces
3/4 cup match stick carrots
1 small bunch green onions, sliced thin
3/4 cup salted peanuts
Prepare sauce (recipe below) and set aside.
Cut chicken tender in half lengthwise and then cut each of those pieces in half.
Discard ramen flavor packets.
Cook ramen in boiling water for 3 minutes.  Drain and toss in serving bowl with 1 tablespoon of avocado oil.  Cover and set aside.
Coat chicken pieces with remaining oil and grill or sear in cast iron until chicken is seared on the outside and cooked through.
Toss chicken in sauce with vegetables.
Serve over prepared ramen, cucumbers and garnish with green onions.
SAUCE
1/2 cup salted creamy peanut butter (see note)
2-3 tablespoons BRAGG'S liquid aminos
2 tablespoons maple syrup
+/- 1 teaspoon chili garlic sauce, depending on your heat level
Juice of 2 FRESH limes
+/- 1/4 cup water (to thin)
Whisk together the peanut butter, liquid aminos, maple syrup, chili sauce and lime juice in a medium mixing bowl.
Add water a little at a time until a thick BUT pourable sauce is formed.
Taste and adjust seasonings as needed, adding more maple syrup for sweetness, chili garlic sauce for heat, lime juice for acidity, or liquid aminos for saltiness.
NOTE:
Almond butter or Cashew butter SUBSTITUTE WELL for Peanut butter.
If your sauce becomes too thin, add more nut butter.
If your sauce is too thick, thin with more water.
FRESH grated ginger to taste adds another great flavor.