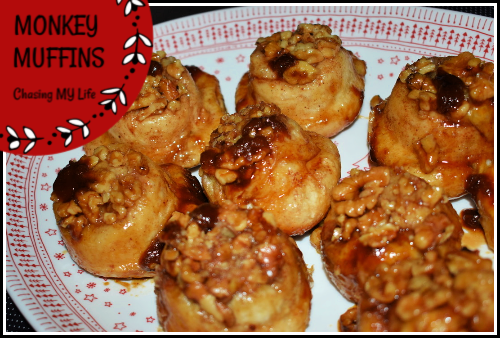 MONKEY BREAD MUFFINS
1 cup toasted walnut pieces
10 tablespoons unsalted butter, melted and divided 6 + 4
1 ¼ pounds Bridgford rolls, thawed
¾ cup sugar
1 tablespoons ground cinnamon
²⁄³ cup packed brown sugar
¹⁄³ cup molasses
PINCH sea salt flakes
Coat muffin tin holes with non-stick cooking spray.
Sprinkle half of the walnut pieces evenly among the muffin tin holes.
In a medium bowl toss the rolls in 4 tablespoons of the melted butter.
In another bowl combine the sugar and cinnamon. Add the rolls one at a time, tossing in the cinnamon mixture until well coated.
Place one roll in each muffin tin.
Top evenly with remaining walnut pieces.
In a small sauce pan combine the remaining 6 tablespoons of butter, molasses, brown sugar and sea salt.
Cook over medium heat, abut 5 minutes, until well blended and bubbly.
Remove from heat and cool 10 minutes.
Spoon 1 tablespoon over each roll.
Cover loosely with saran wrap and chill at least 8 hours.
Remove pan from refrigerator 30 minutes before baking and let stand at room temperature.
Preheat oven to 350°.
Place muffin tin on a baking sheet to catch any drips and bake 20 minutes until rolls are puffed and cooked through.
Remove from pan and let stand 5 minutes on cooling rack.
Line baking sheet with foil.
Invert muffin tin and spoon any remaining syrup over muffins and arrange on platter.
Best served warm.