This is a classic, old fashioned chicken recipe full of flavor and comfort vegetables and makes for a one pan dish.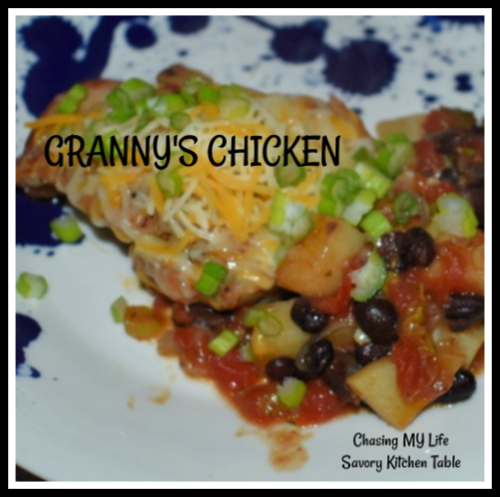 GRANNY'S CHICKEN serves 4
2 tablespoons avocado oil
2 pounds boneless, skinless chicken thighs
FRESH ground sea salt and black pepper
1 shallot, diced
2-3 cloves garlic, minced
14 ounce can small navy beans (or black beans), drained WELL
2 large russet potatoes, peeled and chopped into bite sized pieces
2 cans ROTEL original tomatoes with chiles
2 tablespoons tomato paste
1 tablespoon FRESH thyme, minced
1/4 teaspoon red pepper flakes
grated cheese, for garnish
minced green onions, for garnish
In a large saute pan, heat oil over medium heat.
GENEROUSLY season chicken thighs with FRESH ground sea salt and black pepper.
Sear chicken 3-4 minutes on each side.
Add onions and garlic, stirring and cooking 2-3 minutes until softened.
Add tomato paste, thyme, red pepper flakes, beans, potatoes and tomatoes, stirring to mix well.
Bring to a quick boil and reduce to a simmer for 20 minutes or so until potatoes are fork tender and chicken is cooked through.