I'm picking a different cook book each month to try new recipes from.  This month 😀 and probably next  is Cook's Science from America's Test Kitchen/Cook's Illustrated.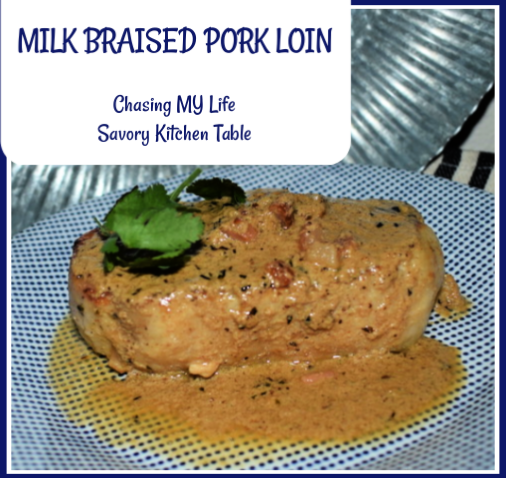 MILK BRAISED PORK LOIN
2-2 1/2 boneless pork loin roast, trimmed
1/4 cup salt
1/4 cup sugar
2 quarts cold water
In a large container dissolve salt and sugar into cold water.
Submerge the roast in the brine, cover and refrigerate for 2 hours.
1/2 cup water
2 ounces salt pork
3 cups WHOLE milk
5 cloves garlic, minced
1 teaspoon FRESH minced thyme
1/4 teaspoon baking soda
1/2 cup dry wine
3 tablespoons FRESH chopped parsley
1 teaspoon creamy horseradish* (see note)
FRESH ground sea salt and tri-color pepper
Remove roast from brine and pat dry.
Preheat oven to 275°.
Bring water and salt pork to a simmer in a dutch oven over medium heat.
Simmer 5 or so until water evaporates and salt pork begins to sizzle. Continue cooking until salt pork is browned and fat has rendered.
Using slotted spoon remove salt pork and discard.
Increase heat to medium high.
Add roast and brown on ALL sides.
Transfer roast to plate.
Add milk, garlic, thyme and baking soda to pot and bring to a simmer, being sure to scrape up any browned bits. Continue cooking 15 minutes or so, stirring frequently, until milk is starting to brown and becoming the consistency of heavy cream.
Reduce heat to medium low and cook a few minutes more until mixture becomes the consistency of a thin batter. Remove from heat.
Return roast to the pot, turning to coat in milk mixture, cover and transfer to oven for 20 minutes, turn again and roast another 20-25 minutes until roasts registers 140°.
Transfer roast to carving board, tent with foil and allow to rest 15 minutes before slicing.
Transfer any accumulated juices from the carving board to the pot with the milk mixture.
Add wine and bring to a simmer over medium high heat. Whisk constantly to smooth out sauce.
Simmer 2-3 minutes until gravy thins.
Remove from heat.
Whisk in Parsley and creamy horseradish.
Adjust seasoning.
Use immersion blender if necessary to cream sauce.
Slice roast into 1/4 inch slices and transfer to serving platter.
Spoon sauce over slices and serve immediately.
NOTE:
Original recipe called for Dijon mustard, but I have a severe allergy to mustard so I substitute creamy horseradish.
Buttermilk is a GREAT substitute for the whole milk that is also a technical fix for the gravy turning lumpy.  There was a technical explanation to the whole reason why, but the bottom line is that it works! 😀