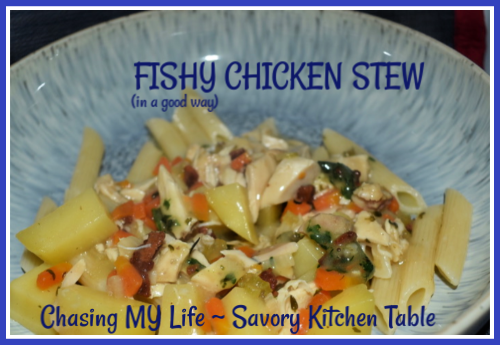 FISHY (in a good way) CHICKEN STEW
3 slices bacon, chopped
1 tablespoon avocado oil
1 1/2 pounds chicken tenders
FRESH ground sea salt and black pepper
1 LARGE shallot, chopped fine
1 celery stalk, chopped fine
2 cloves garlic, minced
2 teaspoons anchovy paste
3 sprigs FRESH thyme, minced
3/4 cup white wine
5 cups chicken broth
2 tablespoons Bragg's liquid aminos
4 tablespoons unsalted butter, cut into pieces
1/3 cup WONDRA flour
1 pound white potatoes, diced
3 carrots, diced
chopped FRESH parsley for garnish
In a large saute pan, cook bacon JUST until crisp. Remove with a slotted spoon to drain on paper toweling.
Add avocado oil to the bacon rendering in the pan and heat over medium flame.
GENEROUSLY season chicken pieces with FRESH ground sea salt and black pepper.
Add chicken to hot oil and sear on both sides until cooked through. Transfer to a plate and cover with foil to keep warm.
Add onion, garlic, celery, anchovy paste and thyme, cooking 2-3 minutes until well blended.
Add wine, 1 cup of the broth and liquid aminos, simmering until almost ALL the liquid is evaporated.
Preheat oven to 325°.
Add butter.
When butter has melted, sprinkle with flour, stirring to combine.
Whisk in remaining broth,
Shred chicken and add to broth along with carrots and potatoes, stirring to combine.
Cover and bake 30 minutes.
Stir and bake another 30-45 minutes until carrots and potatoes are fork tender.
Season to taste and fold in bacon pieces.
Garnish and serve immediately.  We like it over pasta.  I know that's weird, but it's a family thing.