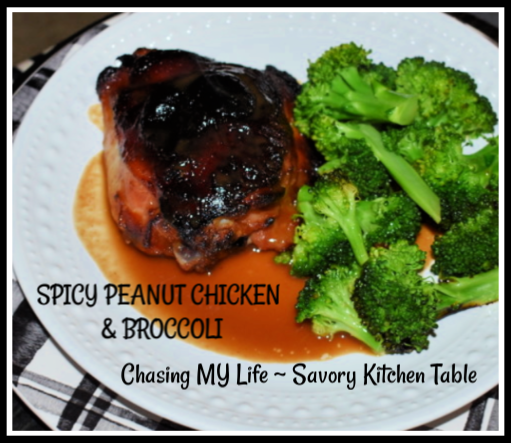 SPICY PEANUT BUTTER CHICKEN & BROCCOLI – SHEET PAN STYLE
1/4 cup QUALITY honey
1/4 cup QUALITY peanut butter
1/4 cup Bragg's Liquid Aminos
1 teaspoon Worcestershire sauce
1 teaspoon Frank's original hot sauce
3 cloves garlic, minced
3 LARGE limes, juiced
1/2 cup + 2 tablespoons avocado oil
FRESH ground sea salt and tri-color pepper, to taste
3 1/4 pounds skin-on, bone-in chicken thighs
1 bunch broccoli, cut into florets
Prepared white rice
Whisk together honey, peanut butter, liquid aminos, Worcestershire sauce, hot sauce, lime juice, 1/2 cup avocado oil, salt and pepper.
Remove 1/2 cup of the sauce and set aside.
Add the chicken pieces and remaining sauce to a large ziploc bag.  Seal and refrigerate 2 hours.
Preheat oven to 425°.
Line a baking tray with foil.
Remove chicken from marinade and place on baking tray.  Cover lightly with foil for the first 20 minutes.  As you can see I forgot this time and it got a bit crispy, but still tasted wonderful.
Bake 35-40 minutes until chicken skin is crisp and chicken registers 165°.
At 25 minutes, toss broccoli florets with 2 tablespoons avocado oil and sprinkle with salt and pepper.  Add to baking tray and return to oven.for final 15 minutes.
Serve with rice and remaining sauce.