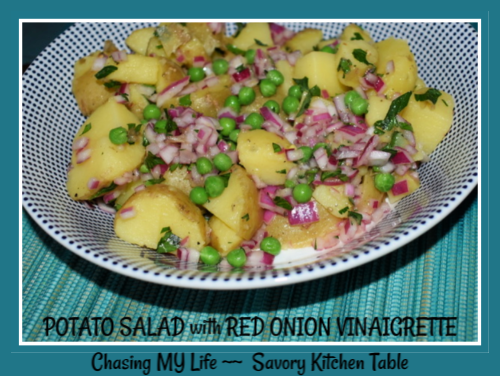 POTATO SALAD with RED ONION VINAIGRETTE
2 pounds baby yellow potatoes
FRESH ground sea salt and tri-color pepper
1/2 medium red onion , FINELY chopped
3 tablespoons champagne vinegar
2 tablespoons apple cider vinegar
3 tablespoons avocado oil
1/2 cup frozen peas, thawed
1/4 cup FRESH chopped Italian Parsley
Place potatoes in medium pot and cover with cold water.
Bring to a boil, add 2 teaspoons sea salt, reduce heat and simmer 12-15 minutes until tender.
Toss onion with vinegar. Season with salt and pepper. Set aside.
Drain potatoes and run under cool water to cool.
Halve potatoes.
Whisk oil into vinegar mixture.
Add potatoes and toss to coat.
Fold in peas and Parsley.