Eggs Benedict is one of my all time favorite special breakfasts. I am not a Canadian bacon fan though and much prefer a tavern style ham or better yet leftover Easter ham :D. And the English muffin has to be crispy, but not too crispy so it soaks up the Hollandaise sauce!  This is also a recipe I try to make in conjunction with white cake so nothing goes to waste since one uses egg whites and the other egg yolks.
Eggs Benedict is a multi-taskers recipe and requires more prep work than anything!  Using super FRESH eggs also makes it better!
Despite the name sounding Dutch,  Hollandaise  sauce began in France and was originally known as Sauce Isigny, after a town in Normandy famous for its butter and cream. Hollandaise is one of the five mother sauces in French cuisine. Sauce Isigny is also still listed in French reference books.  Ironically though according to Wikipedia the sauce can actually be traced back to the middle ages crediting it's origins to 1651 in La Varenne's Le Cuisinier François for "asparagus with fragrant sauce".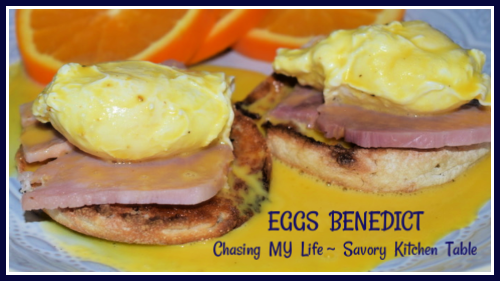 EGGS BENEDICT with LEMONY HOLLANDAISE SAUCE serves 2
2 English muffins
4 LARGE, FRESH eggs
4 slices tavern ham, warmed
HOLLANDAISE SAUCE
4 tablespoons butter
4 egg yolks
Juice of 1 SMALL lemon – 1 tablespoon TART lemon juice
1 tablespoon heavy whipping cream
1 teaspoon Frank's original hot sauce
FRESH ground salt and pepper, to taste
Melt the butter in a small saucepan.
In a separate small bowl, beat the egg yolks.
Mix in lemon juice, whipping cream, hot sauce, salt and pepper.
Temper the egg mixture by adding a small spoonful of the hot melted butter to the egg mixture and stirring well. Repeating this process a spoonful at a time to slowly combine without curdling the sauce.
Once the butter has been completely incorporated, pour the mixture back into the saucepan, cooking on LOW heat, stirring constantly, for 30 seconds.
Remove from heat and set aside.
EGGS
2 tablespoons vinegar – I like to use apple cider vinegar to add a bit of tang to the egg.
Fill a medium size pot with about 3 inches of water and bring to a SLOW boil.
Reduce to a simmer.
Add vinegar (the vinegar helps the egg stay together all in one place)
Crack each egg into a separate ramekin.
GENTLY pour each egg into the water in separate areas.
Cook the egg in simmering water for 3-5 minutes, depending on how soft you want your egg yolk.
GENTLY Remove the poached egg with a slotted spoon.
ASSEMBLY
Toast the English muffin and LIGHTLY butter.
Top each toasted side with a slice of ham.
Top the ham with the poached egg.
Top with Hollandaise sauce.
Serve and enjoy immediately.