When I was at the butcher the other day he actually had WHOLE roasting chickens. They are getting really hard to find as everyone wants them either cut up into pieces or boneless and skinless. To me a whole roast chicken on a Sunday especially, seems like going to grandma's house!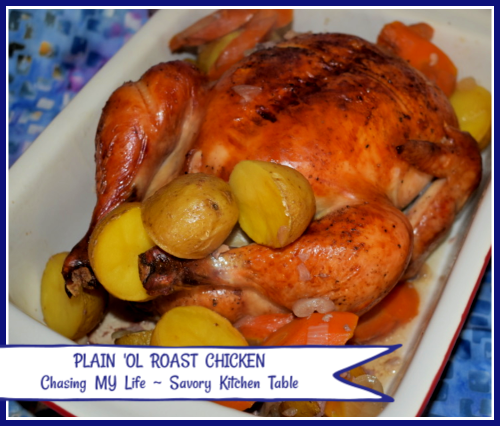 PLAIN OL' ROAST CHICKEN serves 6-8
5-6 pound WHOLE roasting chicken
FRESH sea salt and ground black pepper
1 large bunch fresh thyme, split half into springs, half into leaves only
1 lemon, halved
1 head garlic, cut in half crosswise
4 tablespoons butter, melted
2 LARGE shallots, thickly sliced
4 carrots cut into 2-inch slices
8 baby gold potatoes, halved
2 stalks celery, thickly sliced
2 cups chicken broth
Avocado oil
Preheat the oven to 400°.
Remove the chicken giblets and throw away the neck.  Dice the other pieces and place on the bottom of the roasting pan.
Rinse the chicken inside and out.
Remove any excess fat and pin feathers.
Pat the outside dry.
Generously salt and pepper the inside of the chicken.
Stuff the cavity with the half of the thyme, both halves of lemon, and all the garlic.
Tie the legs together with kitchen string or silicone bands and tuck the wing tips under the body of the chicken.
Place the shallots, carrots, and celery in a roasting pan.
Toss remaining thyme (leaves only) with the avocado oil and some more salt and pepper. Pour over the veggies the bottom of the roasting pan and place the chicken on top.
Brush the outside of the chicken with the butter and sprinkle again with salt and pepper.
Arrange potatoes around the edges.
Pour chicken broth into roasting pan.
Roast the chicken for 1 1/2 hours (cover with foil for the first hour), or until the juices run clear when you cut between a leg and thigh.
Baste ever 10 minutes after removing the foil.
Remove the chicken and vegetables to a platter and cover with foil letting it rest 15 minutes.
Strain juices and make gravy from the drippings if desired to serve over the potatoes.
Serve and enjoy!