I originally saw this recipe in Cook's Country magazine and it sounded perfect for a COLD winter night. Hubby complained that it was too brown though and was really craving the veggies of a more traditional chicken pot pie (let's face it many of us grew up on Swanson pot pies) so I adapted Kelly Price's recipe in Cook's Country magazine just a bit.
The name of the recipe really intrigued me (it sound like one of those made up countries for a royal wedding in a Hallmark movie 😀 ) so I did some research. A little history tutorial from wikipedia helped in understanding this recipe better.
I wanted to maintain the savory portion of this recipe as well as the original crust and gravy base, but needed to add some color and flavor for hubby which I guess makes it more of a a traditional chicken pot pie, but keeps my family happier 😀 I couldn't do the open hearth so I settled for my oven. I did keep it protein heavy by not eliminating any of the chicken pieces when I added the veggies, so this becomes an overstuffed pie. This version uses a seared chicken instead of the boiled chicken. I think it adds another layer of flavor and makes things much simpler and quicker for me. You can even substitute rotisserie chicken pieces if you are in a serious hurry. I like to use chicken thighs because the dark meat is moister and has more flavor.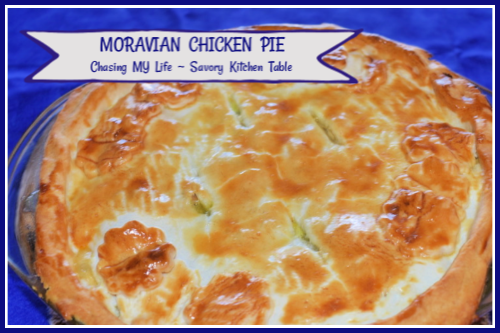 Moravians were a West Slavic ethnic tribe from Monravia, a region of the Czech Republic in the Early Middle Ages. Although it is not known exactly when the Moravian tribe was founded, Czech historian Dušan Třeštík claimed the tribe was formed between the turn of the 6th century to the 7th century, around the same time as the other Slavic tribes. The first known mention of the Moravians was in the Annales Regni Francorum in 822 AD. The tribe was located by the Bavarian Geographer between the tribe of the Bohemians and the tribe of the Bulgarians.
Like any historical area during the course of history, the control teetered back and forth. At times, the empire controlled even other neighboring regions, including Bohemia and parts of present-day Hungary, Poland and Ukraine. It emerged into one of the most powerful states in Central Europe. After the breakup of the Moravian Realm the Moravian tribe was divided between the new states Duchy of Bohemia and Hungary.
The western Moravians were assimilated by the Czechs and presently identify as Czechs for the most part. The modern nation of the Slovaks was formed out of the eastern part of the Moravian tribe within the Kingdom of Hungary.
Moravian chicken pie is a savory meat pie that seems to have originated in 1766 Salem, North Carolina by Moravian immigrants and were familiar with the preparation of meat pies, which are a staple of the cuisine of Central Europe, their ancestral home. It is a traditional double crusted pie made with flaky shortcrust pastry filled with only chunks of poached chicken meat and a thick broth-based sauce. In keeping with the simple, frugal Moravian lifestyle, the preparation of chicken pie required only five readily available ingredients (chicken, broth, flour, butter, salt) and a short baking time on an open hearth.  Unlike chicken "pot pies", vegetables are never included in the filling. The pie is served in slices with hot chicken gravy on top, and extra gravy on the side. Mashed potatoes are a common accompaniment.
The traditional recipe for Moravian chicken pie has changed very little since colonial times, and its culinary fame has spread far beyond being just an iconic North Carolina dish. Moravian chicken pies are a staple of local church fundraisers, so much so that pastors are known to estimate the cost of various church projects by the number of chicken pies that must be sold to fund the project.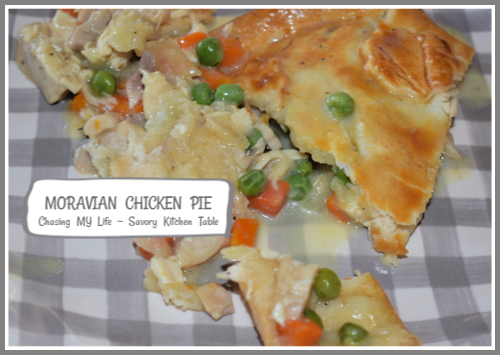 unMORAVAIN CHICKEN "POT" PIE serves 6-8 adapted from Kelly Price's recipe in Cook's Country
CRUST

1/2 cup sour cream
1 LARGE egg, lightly beaten
2 1/2 cups (12 1/2 ounces) all-purpose flour
1 1/2 teaspoons salt
12 tablespoons unsalted butter, cut into 1/2-inch pieces and chilled
Combine sour cream and egg in bowl.
Process flour and salt in food processor until combined, about 3 seconds.
Add butter and pulse until only pea-size pieces remain, about 10 pulses.
Add half of sour cream mixture and pulse until combined, 5 pulses.
Add remaining sour cream mixture and pulse until dough begins to form, about 10 pulses.
Transfer mixture to lightly floured counter and knead briefly until dough comes together.
Divide dough in half and form each half into 4-inch disk.
Wrap each disk in plastic wrap and refrigerate for at least 1 hour or up to 2 days.

(Dough can be wrapped tightly in plastic and foil and frozen for up to 2 months. Thaw completely at room temperature before using.)

Remove 1 dough disk from refrigerator and let sit for 10 minutes.
Working on lightly floured counter, roll into 12-inch round and transfer to 9-inch pie plate, leaving 1/2-inch overhang all around.
Repeat with second dough disk and transfer to parchment – lined rimmed baking sheet.
Cover both dough disks with plastic and refrigerate for 30 minutes.
FILLING

2 1/2-3 pounds bone-in chicken thighs
FRESH ground sea salt and black pepper
1/2 teaspoon sweet paprika
1 tablespoon avocado oil
3 cups low-sodium chicken broth
1 bay leaf
2 tablespoons unsalted butter
1/4 cup WONDRA flour
1/4 cup half-and-half
1 LARGE egg, lightly beaten
1/3 cup chopped onion
3/4 cup frozen peas and carrots, thawed and drained
Pat chicken dry with paper towels and generously season with salt and pepper.
Heat oil in large Dutch oven over medium-high heat.
Cook chicken until browned all over, about 10 minutes; transfer to plate.
Pour fat (you should have 2 tablespoons) into small bowl; reserve. If you get less than 2 tablespoons of fat from browning the chicken supplement it with butter.
When chicken is cool enough to handle, remove and discard skin.
Add broth, chicken, and bay leaf to now-empty pot and bring to boil.
Reduce heat to low and simmer, covered 15-18 minutes, until breasts register 175°.
Transfer chicken to bowl.
When chicken is cool enough to handle, shred into bite-size pieces, discarding bones.
Pour broth through fine-mesh strainer into second bowl and reserve (you should have about 2¾ cups); discard bay leaf.
ASSEMBLY & BAKING
Adjust oven rack to lowest position and heat oven to 450°.
Heat butter and reserved fat in now-empty pot over medium heat until shimmering.
Add flour and cook, whisking constantly, until golden, 1 to 2 minutes.
Slowly whisk in 2 cups of reserved broth and the half-and-half and bring to boil.
Reduce heat to medium-low and simmer gravy 6-8 minutes until thickened and reduced to 1¾ cups.
Season to taste.
Combine 1 cup gravy with shredded chicken; reserve remaining gravy for serving.
Fold in onions, peas and carrots.
Transfer chicken mixture to dough-lined pie plate and spread into even layer.
Top with second dough round, leaving at least 1/2-inch overhang all around.
Fold dough under itself so that edge of fold is flush with outer rim of pie plate.
Flute edges using thumb and forefinger or press with tines of fork to seal.
Cut four 1-inch slits in top.
Brush pie with egg and bake 18-20 minutes until top is light golden brown.
Reduce oven temperature to 375° and continue to bake 10-15 minutes more until crust is deep golden brown.
Let pie cool on wire rack for at least 30 minutes.
FINAL GRAVY
Add remaining ¾ cup reserved gravy and remaining ¾ cup reserved broth medium saucepan and bring to a SLOW boil.
Simmer over medium-low heat 5-7 minutes until slightly thickened.
Season to taste with salt and pepper.
Serve pie with gravy.
NOTE: The pie may seem loose when it first comes out of the oven; it will set up as it cools.