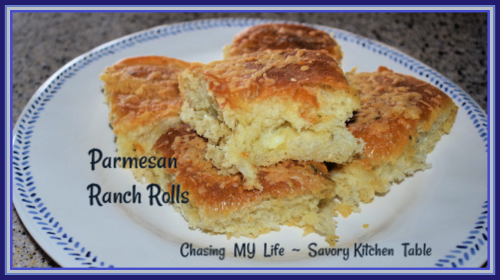 PARMESAN RANCH ROLLS
2 loaves (1 pound each), frozen bread dough, thawed
1 cup grated Parmesan cheese
1/2 cup (1 stick) butter, melted
1 envelope buttermilk ranch salad dressing mix
3 green onions, white portions only, minced
Grease 2 9×9 baking dishes. Set aside.
On a lightly floured surface, divide the dough into 18 portions.
Roll each portion into a ball.
Whisk together the melted butter and ranch dressing mix.
Fold in grated cheese.
Roll each ball in the butter cheese mixture and place 9 in each baking dish.
Sprinkle with onions.
Cover with a tea towel and let rise in a warm location for 45 minutes, until double in size.
Preheat oven to 350°.
Bake 20-25 minutes or until golden brown.
Remove from pans to cool on wire racks.