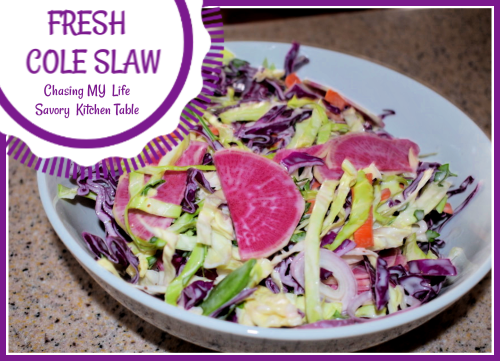 FRESH updated COLE SLAW
1/2 small head red cabbage, thinly sliced or shredded
1/2 small head green cabbage, thinly sliced or shredded
1 1/2 cups shredded carrots
1 cup chopped snap peas
1/2 cup chopped parsley
1 shallot halved and sliced thin**
1 LARGE watermelon radish, sliced thin
2 tablespoons caraway seeds
1 cup golden raisins (optional)
1 cup mayonnaise
3-4 tablespoons apple cider vinegar
3-4 tablespoons sugar
Fresh ground salt and pepper, to taste
Whisk together the mayonnaise, salt, pepper, vinegar and sugar until well blended.
In a large bowl toss together the cabbages,  carrots, parsley, shallot (onion), radish pieces and snap peas.
Pour mayonnaise mixture over cabbage mixture, sprinkle with caraway seeds and toss until well coated.
Fold in raisins if using.
Adjust salt, pepper, sugar and vinegar to your personal tastes.
Cover and chill several hours before serving.
NOTE: Green onions or thin slices of red onion make GREAT substitutes for the shallot.