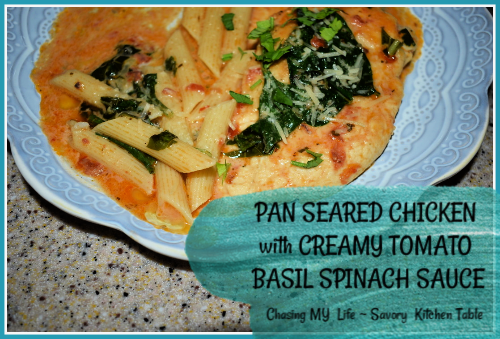 PAN SEARED CHICKEN with CREAMY TOMATO BASIL SPINACH CREAM SAUCE
Boneless skinless chicken thighs smothered in an easy-to-make creamy tomato basil and spinach sauce.
1 tablespoon avocado oil
4-6 LARGE boneless, skinless chicken thin breasts
FRESH ground sea salt and black pepper
2 tablespoons butter
1/4 cup + 2 tablespoons WONDRA flour
2 cups chicken broth
2 tablespoons tomato paste
2 tablespoons tomato pesto (Barilla or Classico)
1 cup tomato sauce
2-3 garlic cloves, minced
1/2 cup heavy cream
1 1/2 cups fresh spinach leaves
4-6 leaves fresh basil, chiffonaded
2 tablespoons chopped flat leaf parsely
1/4 cup grated Parmesan cheese
In a large skillet heat avocado oil over medium heat.
Generously season chicken thighs with FRESH ground salt and pepper.
Dredge in 1/4 cup WONDRA flour.
Add to hot oil and cook for 2 minutes until the top side is nicely seared.
Flip over to the other side and sear for 2 more minutes on medium heat.
Remove the chicken from the skillet to a plate and keep warm.
Add garlic to pan and cook 30 seconds or so until fragrant.
Add chicken broth, tomato pesto, tomato paste and heavy cream to skillet.
Bring to a SLOW boil, stirring regularly.
Reduce heat to low simmer.
Taste the sauce and add more salt and adjust seasoning as needed.
Melt 2 tablespoons of butter and whisk together with 2 tablespoons of reserved flour dredge until smooth.
Whisk into sauce until smooth.
Add fresh spinach, parsley and fresh basil, stirring until spinach wilts and reduces in volume.
Add chicken to sauce, turning to coat, increasing heat to medium for a minute or 2 to reheat chicken.
Serve over pasta and spoon the sauce over the pasta and chicken.
Top with grated Parmesan cheese.