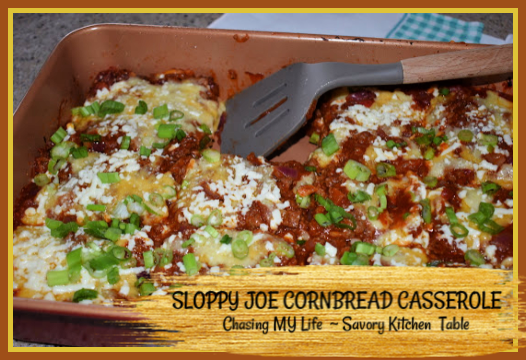 SLOPPY JOE CORNBREAD CASSEROLE Serves 10-12
This recipe is sweet, yet tangy and pleases everyone.  It's also good in ANY season and super simple to throw together!
1 box JIFFY corn muffin mix
1/2 + 3/4 cup shredded cheddar cheese
1/3 cup WHOLE milk
1 LARGE egg
1 small can green chiles, WELL drained
14.75 ounces cream-style corn 1 can
24 ounce can sloppy joe sauce or homemade, divided
1 pound ground beef
1 tablespoon butter
1/2 sweet onion, diced
Grated Cotija cheese
1/4 cup diced green onions
sour cream dollops
Heat the oven to 400°.
Spray a 9×13 baking dish with non-stick cooking spray.
In a medium sized bowl, add the cornbread mix, 1/2 cup cheddar cheese, milk, egg, green chiles and canned corn stirring until combined.
Pour into the prepared baking dish and bake for 15 minutes or until just set.
Heat butter in large skillet and add onion and pepper, sauteing until soft.
Add the ground beef to the skillet and cook through.
Drain the fat.
Add all but 1/2 cup of the sloppy joe sauce to the pan with the meat to warm.
Remove the cornbread from the oven and use a fork to prick holes over the cornbread.
Pour the remaining sloppy joe sauce over the cornbread.
Spoon the meat sauce over the baked cornbread and top with 3/4 cup cheddar cheese.
Return to the oven for 15 minutes.
Top with the green onions, cotija cheese and a dollop of sour cream before serving.