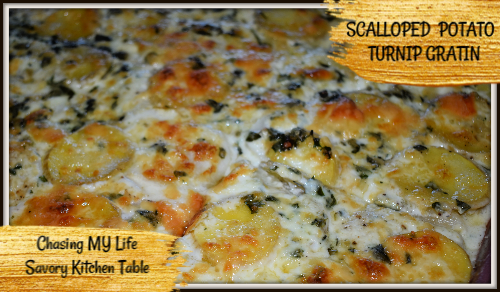 SCALLOPED POTATO TURNIP GRATIN
4 tablespoons butter
2 green onions, sliced thin
1/4 cup WONDRA flour
1 pound turnips, peeled and thinly sliced
1 pound YUKON gold potatoes, thinly sliced
2 1/2 cups heavy whipping cream
FRESH ground sea salt and black pepper
1 tablespoon chopped FRESH thyme
1 tablespoon chopped FRESH oregano
1/3 cup chopped Italian Parsley
2 cloves garlic, minced
1/2 cup FRESH grated Parmesan cheese
Preheat oven to 350°.
LIGHTLY spray sheet pan with non-stick cooking spray.
Alternately layer turnip and potato slices.
Generously sprinkle with FRESH ground sea salt and black pepper.
Repeat with a second layer and sprinkle again with FRESH ground sea salt and black pepper.
In a skillet melt the butter.
Add the green onions and saute 30 seconds.
Whisk in flour until smooth.
Add garlic, thyme, oregano, parsley and heavy whipping cream, cooking until thickened.
Pour sauce over potatoes and turnip, smoothing evenly.
Top with Parmesan cheese.
Bake 25-30 minutes until cooked through and golden.