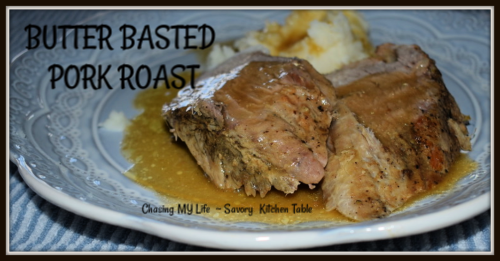 BUTTER BRAISED PORK ROAST ala SLOW COOKER
3-4 pound pork loin
1 bunch green onions, sliced
3 cloves Garlic, minced
4-5 FRESH sprigs of thyme leaves
1 cube KNORR cilantro
1 cube KNORR chipotle
1 cube KNORR garlic
1 tablespoon MONTANA MEX sweet seasoning blend
1 Pinch red pepper flakes
FRESH ground sea salt and black pepper
1/2 cup butter, divided
Blot pork roast dry and generously season with FRESH ground sea salt and black pepper.
Heat oil in skillet over medium high heat.
Sear all sides of roast 1-2 minutes.
Place roast in slow cooker.
Wipe out skillet of excess oil.
Melt butter in skillet.
Whisk in seasonings and thyme leaves.
Add onions, sautéing a minute.
Add garlic and sauté another minute.
Pour over pork roast.
Cook on LOW 5 hours.
Move pork roast to a plate to rest and cover with foil.
GRAVY
stock from slow cooker
1 cup chicken stock
1 tablespoon better than bouillon chicken stock
2 tablespoons cornstarch
1 tablespoon WONDRA flour
Melt butter in saucepan.
Whisk in cornstarch and flour.
Add chicken stock and whisk until smooth.
Add renderings from the slow cooker and whisk until smooth and thickened.
Adjust seasoning and serve over mashed potatoes with gravy.