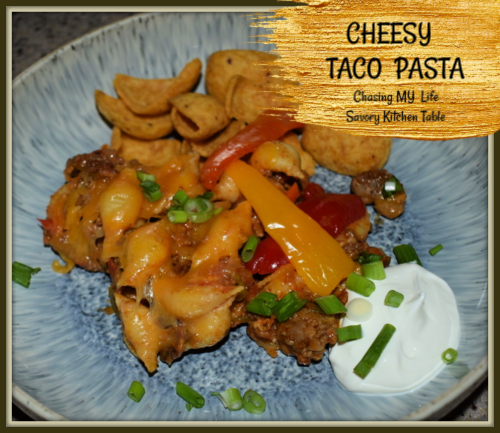 CHEESY TACO PASTA serves 6-8
1/2 pound large shells pasta
1 pound ground beef
1 package Taco Bell ORIGINAL seasoning packet
3/4 cup water
1 cup jarred salsa
1 cup shredded cheddar cheese
Cook the shelled pasta according to the directions on the box and drain WELL.
Add the ground beef to the pan and brown well.
Drain the fat.
Add the taco seasoning and water, stirring and cooking until water is evaporated.
Add the pasta, salsa and cheese.
Stir to combine.
Garnish with chopped green onions, chopped olives and/or peppers.
Serve immediately, with crunchy tortilla chips or Fritos.   I also like to use taco shell bowls.