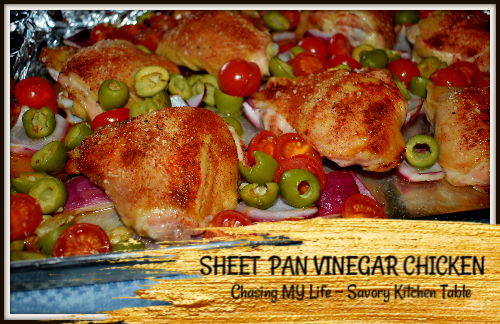 SHEET PAN VINEGAR CHICKEN ala Valerie Bertinelli – update ala Tamy
1 medium red onion, cut into 1/4-inch-thick wedges
1 1/2 tablespoons avocado oil
6 boneless, skinless chicken thighs
3/4 teaspoon smoked paprika
FRESH ground sea salt and black pepper
1/4 cup sherry vinegar
2 cups mixed color cherry tomatoes
3/4 cup pitted Castelvetrano (the pale green ones – I use Mezetta) olives
1 teaspoon chopped fresh rosemary
2 cloves garlic, sliced or minced
1/4 cup chopped fresh flat-leaf parsley
Preheat the oven to 425°.
Toss the onions with 1/2 tablespoon of the oil on a large rimmed baking sheet.
Arrange the chicken thighs on top and sprinkle them all over with the smoked paprika and salt and pepper.
Drizzle the vinegar on top and then roast in the oven about 15 minutes.
Toss the cherry tomatoes, olives, rosemary and garlic with the remaining 1 tablespoon oil, a big pinch of salt and pepper to taste.
Add the mixture to the baking sheet with the roasted chicken and continue to roast until the chicken is golden brown and cooked through, 10 minutes more.
Serve the chicken with the vegetables and juices from the baking sheet.
Sprinkle with the parsley.