Snapper wrappers are a recipe I made several years back (2014) and vowed to turn into a casserole.  Well, I've finally done it 😀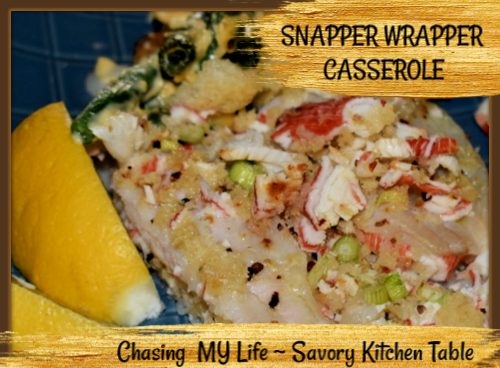 SNAPPER WRAPPER CASSEROLE Serves 4-6
1 pound lump crab meat, drained or KRAB from the meat department works great too
4 skinned red snapper fillets or any white fish of your choice
3-4 FINELY chopped green onions

FRESH ground sea salt and black pepper
1 teaspoon ground red pepper
1 teaspoon lemon pepper
2 cloves garlic, FINELY minced
2 LARGE lemons, 1 juiced, 1 sliced into wedges for serving
1 tablespoon white wine
1/4 cup butter, melted
Preheat oven to 400˚.

Pick crab meat, removing any bits of shell or FINELY chop the KRAB.

Whisk together the melted butter, lemon juice, wine, garlic and red pepper in shallow dish.

Generously season the fish fillets with the FRESH ground sea salt and black pepper.

Combine the Crab with the green onions.

Dredge the fish fillets in the butter mixture

Arrange one-third of the fish fillets in the bottom of an 8×8 baking dish.

Top with about 1/3 cup crab meat.

Repeat layers.

Drizzle remaining dredge liquid over top layer.

Bake uncovered for 16-18 minutes or fish flakes when tested with a fork.

Spoon any pan drippings over top before serving.

Serve with lemon wedges.