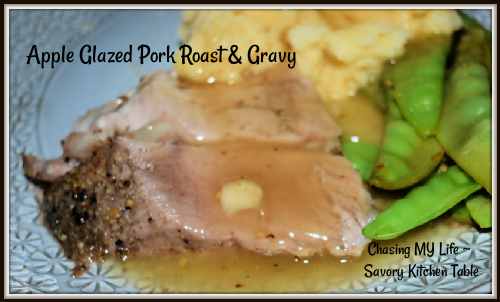 APPLE GLAZED PORK ROAST & GRAVY
1/2 cup SMUCKERS apple jelly
1 tablespoon white balsamic vinegar
3 pound boneless pork loin roast, tied
FRESH ground sea salt and black pepper
Preheat oven to 400°.

Whisk together the jelly and vinegar.

Generously season pork roast with FRESH ground sea salt and black pepper.

Spray roasting pan with non-stick cooking spray.

Roast pork roast 1 hour until temperature reaches 145°, brushing with glaze after 45 minutes.

Transfer pork to cutting board and cover with foil to rest 10 minutes.

While roast rests, pour all but 2 tablespoons of the drippings into saucepan over low heat.

Whisk the cornstarch into the 2 tablespoons of drippings to make a slurry.

Add slurry to thicken to desired consistency.

Slice roast and serve immediately.