BLUEBERRY CRUMBLE CAKE
This wonderfully moist coffee cake is loaded with FRESH blueberries, topped with a delectable brown sugar crumble and  drizzled with a creamy vanilla glaze that hardens as it cools. You'll end up with a super moist and chewy cake with a crunchy crisp sweet topping.  The glaze is optional and no even really needed! 😀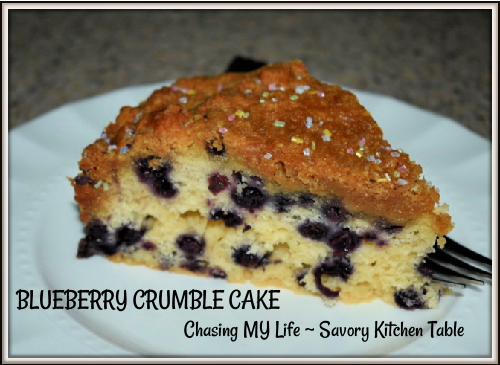 CRUMB TOPPING
1/2 cup PACKED light brown sugar
1/4 cup granulated sugar
1/3 cup plus 3 tablespoons all-purpose flour
1/3 cup plus 2 tablespoons butter, room temperature
In medium bowl stir all the dry ingredients together.
Cut butter into smaller chunks and mix with mixer until combined or using fingers or pastry cutter mix until butter is combined and you can squeeze together to form clumps.
Chill mixture until ready to use.
CAKE
2 cups all-purpose flour
3/4 cup granulated sugar
2 1/2 teaspoons baking powder
3/4 teaspoon salt
1/4 cup salted butter, room temperature
3/4 WHOLE cup milk
1 egg, rood temperature
2 cups FRESH** blueberries, washed and dried
1/4 cup WONDRA flour, for blueberry dusting
Preheat oven to 375°.
Spray 9″ springform pan with nonstick spray and if desired, cut out a piece of parchment paper for easier transfer to serving dish.
In large mixing bowl, combine flour, sugar, baking powder and salt stirring to combine.
Add milk, egg and softened butter, in chunks mixing until mostly smooth and combined. The batter will be thick, but if too thick, add additional 1/4 cup milk.
Dust blueberries with WONDRA flour.
Gently fold in blueberries into the batter.
Pour into prepared 9″ springform pan. If you use a smaller pan for a deeper cake add 10 minutes baking time and if you use a larger pan for a larger shallower cake, decrease baking time by 10 minutes.
Remove crumble from refrigerator and crumble on top of coffee cake batter in marble sized chunks.
Bake 50-65 minutes until top is golden and center is firm, toothpick may or may not come out clean.
Remove from oven and cool 10 minutes on a wire rack.
Glaze.
GLAZE (optional)
1 cup powdered sugar
1 1/2 – 2 teaspoons vanilla extract
2-3 tablespoons milk or cream
While cake is cooling, mix together the powdered sugar, vanilla and milk/cream until smooth and pourable consistency.
Pour over top of warm cake for glaze that hardens and melts into cake, or if preferred, wait until cake is cooled completely then pour glaze over.
TO SERVE:
To serve, using a butter knife, gently run around the edge of the spring form pan.
Transfer to serving platter and enjoy.
NOTES:
**Frozen blueberries may be used, if possible thaw and drain, toss gently in a couple tablespoons of flour to coat, that will help the blueberries to not bleed as much.
You can substitute any other sliced or diced berries; strawberries, blackberries, raspberries… to make you happy.
*Glaze is GREAT, but can definitely be left off the cake and still be flavorful and moist.