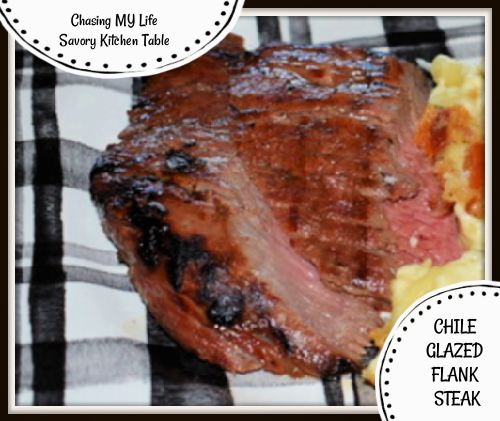 CHILE GLAZED FLANK STEAK
1 1/2 pounds flank steak
FRESH ground sea salt and black pepper
2 tablespoons avocado oil
2 teaspoons Ancho chili pepper powder
1/2 teaspoon ground red pepper
1/2 teaspoon garlic powder
4 ounces beer
1/4 cup chili sauce
1 SMALL onion, FINELY diced
In a ziploc bag combine everything together until well blended.
Add flank steak, seal and marinade 6-8 hours.
Heat grill to medium high and spray with non-stick cooking spray.
Drain off marinade into small sauce pan.
Heat marinade over medium heat to use as sauce later.
Sear steak 4-5 minutes per side based on thickness and your desired doneness.
Place steak on cutting board and rest under foil for 5-10 minutes.
Slice on the bias and serve with sauce.