ACTIVE PREP TIME: 15 minutes
COOK TIME: 25 minutes
TOTAL START TO FINISH TIME: 45 minutes
SERVES: 4
WHY I'LL MAKE IT AGAIN: It's the perfect tailgating food!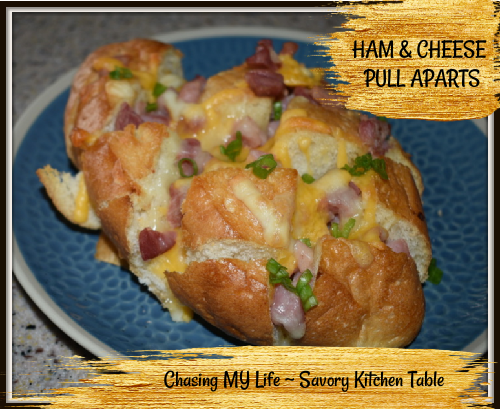 HAM & CHEESE PULL APARTS
4 sourdough rolls or 1 LARGE Italian or sourdough bread loaf
1/2 cup melted unsalted butter
1 + 1/2 cup shredded Mozzarella cheese or Monterey Jack or Baby Swiss
1 1/2-2 cups SMALL diced country ham or bits of deli ham
2 green onions, minced
Preheat oven to 350°.
Cover a baking sheet with foil.
Place rolls foil.
Slice rolls in a cross hatch pattern. Be sure NOT to slice all the way through.
Drizzle the butter into all the crevices.
Stuff the crevices with 1 cup of the shredded cheese and minced ham pieces.
Top with minced green onions.
Wrap loosely with a large piece of foil on top.
Bake 15 minutes.
Top with remaining cheese.
Uncover and bake another 10 minutes until cheese is golden.