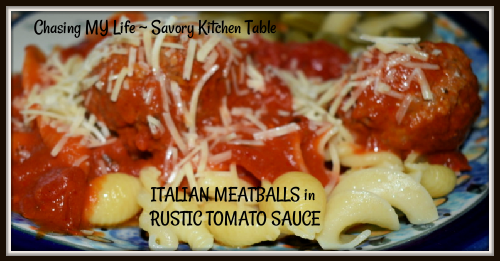 ITALIAN MEATBALLS in RUSTIC TOMATO SAUCE
1/2 pound ground sirloin
1/2 pound ground pork
1/2 pound sweet Italian sausage
1/2 teaspoon crushed red pepper flakes
1 teaspoon dried oregano
1/2 SMALL onion, FINELY chopped
2 LARGE cloves garlic, minced
2 tablespoons avocado oil
In a large bowl mix together ground meats, seasonings, chopped onion and garlic until well blended.
Form into golf ball sized meatballs.
Heat oil in cast iron skillet over medium heat.
Sear meatballs, turning often, until browned.
Transfer to paper towels to drain.
SLOW ROASTED TOMATOES & RUSTIC TOMATO SAUCE
SLOW ROASTED TOMATOES
2-3 pounds FRESH Roma or cherry tomatoes, chopped rustic
1/4 cup chopped FRESH flat leaf Parsley
2 tablespoons chopped FRESH oregano
2 tablespoons chopped FRESH basil
Avocado oil
1 bulb garlic, sliced
1 small red onion, chopped
1 bunch green onions, sliced
FRESH ground sea salt and black pepper
Preheat oven to 300°.
Cover large baking sheet with foil.
Arrange tomatoes, onions and garlic in a single layer.
Drizzle with avocado oil.
Season well with herbs, salt and pepper.
Roast for 3 hours until tomatoes are shriveled and soft.
Cool completely.
RUSTIC TOMATO SAUCE
Pureed Slow Roasted Tomatoes
3 cups chicken broth
1 cup heavy cream
Puree tomato mixture before running through a food mill to remove seeds and large chunks.
Heat a large dutch oven over medium heat.
Add chicken broth and pureed tomatoes.
Bring to a SLOW simmer for 40 minutes.
Whisk in heavy cream and simmer 5-10 minutes more.