Chasseur means "hunter" in French. Cacciatore means "hunter" in Italian. So let's just cut to the chase and call it Hunter chicken.
French hunter's chicken is prepared using chicken that is pan seared crisp and a chasseur sauce consisting of tomatoes, mushrooms, onions, white wine, brandy and tarragon. Prior to pan searing, the chicken can be dredged in flour (I use a fine WONDRA flour). Tomato ingredients can include diced tomatoes, canned crushed tomatoes and tomato paste. Other ingredients often include shallots, olive oil, chicken stock, vermouth, tarragon, thyme and marjoram. Chasseur sauce is traditionally prepared using a SLOW simmer to reduce the sauce and thicken it. Often parsley and croutons are used as garnishes. This recipe is also better as leftovers when the sauce has sat and the flavors have fully blended.
Italian hunter's chicken is prepared using chicken pieces that are first lightly fried and then braised in the sauce. Italian cacciatore is sometimes made with rabbit or salami instead of chicken. The sauce is made with olive oil, onions, herbs, canned peeled tomatoes, bell peppers, garlic and wine. Carrots are often used to add sweetness. Garnish for the cacciatore are often olives, croutons and Parmesan cheese. After the vegetable are sautéed and the broth added to create the sauce, the chicken is returned to the pan, the heat reduced to a SLOW simmer, covered and braised for a couple hours.
In this updated version you can get the same flavor using a slow cooker, making it a weeknight possibility instead of an all day chore.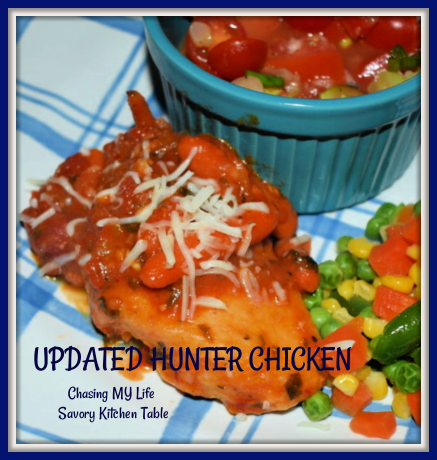 UPDATED HUNTER CHICKEN
4-6 chicken breasts
1/2 cup white wine
1 tablespoon QUALITY tomato paste
1 cup chicken bone broth
1/2 teaspoon red pepper flakes
FRESH ground sea salt and black pepper
6 cloves garlic, minced
8 ounces mushrooms, sliced
1 1/2 cups baby carrots, halved or quartered depending on size
1 SMALL Vidalia onion, chopped
28 ounce can whole tomatoes, drained and then rustic chopped or crushed
1/4 cup WONDRA flour
Whisk together the wine, bone broth, tomato paste, red pepper flakes, garlic, onions, carrots, salt and pepper.
Add to slow cooker.
Generously season chicken with FRESH ground sea salt and black pepper.
Dredge chicken pieces with flour.
Nestle chicken pieces into tomatoes.
Sprinkle any remaining flour evenly over top.
Scatter mushrooms over top.
Cover and cook on low 5-6 hours.
Serve with desired garnishes
GARNISHES
3/4 cup pimiento stuffed green olives
Parmesan cheese
Crusty bread pieces