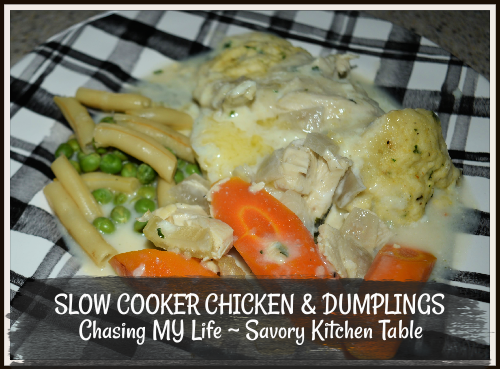 SLOW COOKER CHICKEN & DUMPLINGS
CHICKEN
2 tablespoons butter
1 tablespoon avocado oil
2 pounds boneless, skinless chicken breasts
3 carrots, peeled and cut into 1/2 slices
2 stalks celery, chopped
1 LARGE shallot, sliced thin
3-4 cloves garlic, minced
1 tablespoon FRESH chopped thyme
5 cups chicken broth
1/4 cup flour
1 cup half and half, at room temperature
2 tablespoons cream sherry
FRESH ground sea salt and black pepper
Melt butter and oil in a large skillet.
Generously season chicken with FRESH ground sea salt and black pepper.
Sear chicken pieces on each side.
Transfer chicken to slow cooker.
Arrange carrots, celery, shallots and garlic over chicken breasts.
Pour chicken broth over everything.
Cook on low 3 hours.
Remove chicken pieces and shred with 2 forks.
In a medium bowl combine the flour with the half and half.
Stir half and half mixture into the crockpot.
Recover and increase heat to high.
Return chicken to slow cooker.
Stir in sherry and thyme.
Recover and cook 15-20 minutes while preparing the dumplings.
DUMPLINGS
1 1/8 cup all purpose flour
2 tablespoons cornmeal
1 1/2 teaspoons baking powder
1/4 teaspoon baking soda
FRESH ground sea salt & black pepper
3 tablespoons butter, melted, but cooled
1/3 cup buttermilk, at room temperature
2 tablespoons FRESH minced parsley
Whisk together the flour, cornmeal, baking soda, baking powder and black pepper.
Stir in melted butter, buttermilk and parsley.
Season with salt as necessary.
Drop dumplings rustically by tablespoons in a ring around the slow cooker.
Recover and cook on high another 20-30 minutes or until the dumplings are fluffy and fully cooked through.
Break apart dumplings gently and stir chicken before serving.