I first saw this recipe for Chicken Lazone Pasta on Facebook and it looked mouth wateringly yummy, that I had to know more. As I began researching the original name, I found several different people had made versions, (some attributing it to Brennan's Restaurant in New Orleans) that were great on their own, but it was when I married the best parts of both recipes together that I found my version to be fantastic and Chicken New Orleans was born. It really is a restaurant quality meal made at home with a rich, full bodied and full flavored creamy sauce.
One recipe used chicken tenders and another used full chicken breasts. I settled on thin cut chicken steaks as middle ground. One used granulated garlic and another FRESH garlic. I cut down the proportions of both and prefer the mixed flavor mediums. I also cut down the Creole seasoning a bit and increased the FRESH herbs. One called for linguine and another for fettuccine, but honestly any pasta you choose works well. I like Farfalle and Campagnelle, but I use what I have on hand. I also use WONDRA flour instead of all purpose because it is much finer and makes a smoother sauce.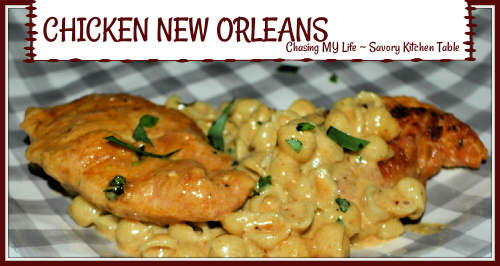 CHICKEN NEW ORLEANS adapted from What's in the Pan  and Slow Roasted Italian
Prep Time10 mins Cook Time20 mins Total Time30 mins
SEASONING
FRESH ground sea salt and black pepper
1 1/2 teaspoons SLAP YOUR MAMA seasoning
2 teaspoons smoked paprika
1 teaspoon onion powder
1 teaspoon garlic powder
1/4 cup WONDRA flour
In a large ziploc bag, combine FRESH ground sea salt, black pepper, SLAP YOUR MAMA, paprika, onion powder, garlic powder, and flour.

CHICKEN
4-6 thin chicken steaks
1 tablespoon avocado oil
1 tablespoon butter
Dredge the chicken in the seasoning mixture and shake off excess. Reserve any leftover spice/flour mix for the sauce.

Preheat large cast iron skillet.

Add avocado oil and melt butter over medium-high heat.

Cook the chicken steaks 2-3 minutes per side until cooked through. Transfer to a plate and cover with foil to keep warm.
PASTA
1/2-3/4 pound pasta
1/4-1/2 cup Pasta water (reserve it)
Boil pasta in salty water, drain, but do not rinse.

Reserve 1/2 cup of pasta water. If you think the sauce needs thinning, add reserved pasta water to the sauce. Add it slow – as much as you would like to have according to your liking.
SAUCE
4 tablespoons butter
Remaining seasoning mixture
1 tablespoon FRESH chopped tarragon leaves
1 tablespoon FRESH chopped flat leaf parsley
1 tablespoon FRESH chopped thyme leaves
2 cloves garlic, FINELY minced
1-2 teaspoons smoked Paprika
2 cups heavy cream
Add butter to the empty skillet and add remaining seasoning mixture into the butter until cook it until golden and flour is no longer raw.

Add more paprika and heavy cream into the skillet.

Add MOST of the FRESH herbs to the sauce, but reserve a bit for garnish.
Bring to a SLOW boiling point.

Lower heat and simmer 3-4 minutes.

Taste the sauce and adjust seasoning to your liking.


Add cooked pasta into the sauce and stir until fully coated.

Return chicken to the skillet, turning to coat with sauce well.

Sprinkle with remaining chopped herbs.