The word pomodoro or Pomo d'oro is Italian for tomato, or more specifically "golden apple". LOL 😀 that is about all that is actually Italian about this recipe! Yet another possible origin of the word is derived from the aphrodisiac qualities in the french translation pomme d'amour, the love apple.
While researching the word pomodoro, I found that tomatoes aren't even indigenous to Italy, meaning they weren't originally Italian, though they are a staple in the Italian kitchen of today!  Tomatoes were first discovered in Central America, but made their way to Italy in the late 15th century and because the growing conditions were ideal for tomatoes Italy became a prominent tomato region making tomatoes a staple in Italian kitchens and Mediterranean recipes!
According to Il Pomodoro Italiano, "The Italian Tomato", there are over 320 different variations of the tomato. The beautiful golden tomatoes (Pomo d'oro) tend to have a sweeter taste and have a low sugar and acid content. For more information on the varieties of Italian tomatoes check out Delicious Italy.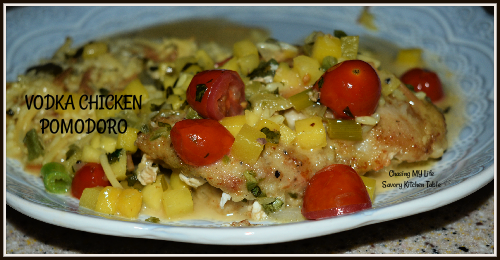 VODKA CHICKEN POMODORO
4 boneless, skinless chicken steaks
FRESH ground sea salt and black pepper
garlic salt
1/4 cup WONDRA flour
2 tablespoons butter
1/4 cup QUALITY Vodka
1/2 cup homemade chicken broth
Juice of 1 LARGE lemon
2 tablespoons FRESH chopped tarragon
1 bunch green onions, sliced thin
1 cup halved cherry or grape tomatoes
2 tablespoons heavy cream
GENEROUSLY season chicken steaks with FRESH ground sea salt, black pepper and garlic salt.
Heat large skillet over medium heat and melt butter.
Dredge chicken steaks in flour and add to skillet.
Saute; chicken steaks 3-4 minutes per side until JUST cooked through.
Transfer chicken to platter and keep warm.
Deglaze pan with vodka and cook 1-2 minutes until alcohol is cooked off.
Add onions to pan, stirring 30 seconds or so.
Add chicken broth, lemon juice and tarragon, blending well.
Add cream, stirring to blend before adding tomatoes and returning the chicken to pan, turning to coat.
Heat through and serve with your favorite rice or mashed potatoes ad sauce drizzled over top.