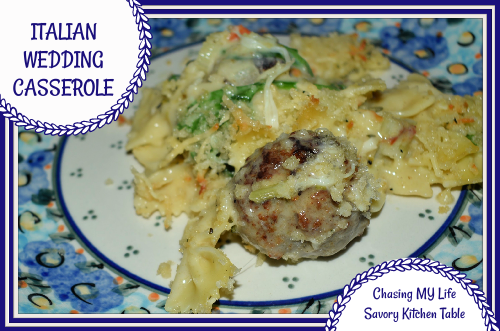 ITALIAN WEDDING CASSEROLE adapted from Ree Drummond
CASSEROLE
2 cups (dry) bowtie pasta
2 tablespoons butter 
2 tablespoons avocado oil 
1 cup diced celery 
2 tablespoons chopped FRESH oregano 
1 tablespoon FRESH chopped thyme
1 tablespoon FRESH chopped Italian Parsley
1 teaspoon FRESH chopped rosemary
3 cloves garlic, minced 
2 carrots, diced 
1 onion, diced 
3 tablespoons all-purpose flour 
4 cups chicken broth
Kosher salt and freshly ground black pepper 
1 1/2 pounds of homemade meatballs OR a 26-ounce bag frozen Italian meatballs 
2-3 cups chopped baby spinach *SEE NOTES
1/2 cup grated Parmesan or Asiago cheese
Preheat the oven to 375°.

Cook the pasta in a large pot of boiling water until less than al dente; set aside.

Melt butter and avocado oil in a large skillet over medium heat.

Add celery, carrots and onion, cooking until the onions are translucent, about 5 minutes.

Add oregano and garlic, sautéing until fragrant.

Sprinkle with the flour, stirring and cooking for an additional minute.

While whisking constantly, slowly add chicken broth. Bring to a simmer and allow the sauce to thicken, about 2 minutes.

Adjust seasoning with salt and pepper.

Add the meatballs, spinach, Parmesan, stirring to combine.

Fold in pasta.

Transfer to 9×13-inch baking dish.
TOPPING
1  cup PANKO breadcrumbs
1/4 cup FRESH grated Parmesan cheese
3 tablespoons salted butter, melted
2 tablespoons chopped FRESH parsley 
2 tablespoons chopped FRESH oregano 
Mix together the breadcrumbs, Parmesan, butter, parsley and oregano in a bowl until well combined.

Sprinkle the breadcrumb topping over the casserole.

Bake until golden and bubbly, about 20 minutes.

Allow the casserole to rest for 10 minutes before serving.
NOTES:  Baby spinach can be easily replaced with broccoli or green beans, but both of those need to be added during the saute' process.