Remembering back to being a kid always seems the same to me.  Dad would buy all sorts of nuts by the pound during the holidays and bring out the nutcrackers. There was always a box (or 2 OR 3) of See's candies (I just love the milk chocolate Bordeauxs and since there were only 1 or 2 to the box I always tried to be the first to find them) and the tins and tins of butter cookies, snickerdoodles, peanut butter fudge, chocolate fudge as well as the sugar cookies that us kids iced and decorated.
One of our new favorites here for Christmas GOOEY CARAMEL TOPPED GINGERSNAPS.  This year though I will probably get around to making sugar cookies, but with no where to go and no one to visit, the remaining recipes just aren't going to happen. 🙁

Whether you use homemade or store bought these cookies turn out swoon worthy of ANY holiday goodie platter. They are sooooo simple, but look and taste sooooo decadent.
GOOEY CARAMEL TOPPED GINGERSNAPS
42 gingersnap cookies, (homemade or store bought)
14 ounces KRAFT caramels
1/4 cup heavy whipping cream
1 cup + 1/4 cup finely chopped honey roasted peanuts
12 ounces combination of white and dark chocolate
Sprinkles of choice (I like chocolate for the holidays)
Arrange cookies on cooling rack line baking sheet.**

In a microwave melt the caramels with the heavy cream, stirring until smooth.

Stir in peanuts.

Spoon about a teaspoon over each cookie.

Refrigerate until set.

Alternately melt white and dark chocolates.

Coat each cookie halfway with one of the chocolates, return to the rack allowing the excess to drip off.

Sprinkle with sprinkles and/or crushed peanuts.

Refrigerate until set.
NOTE** Wax paper or parchment paper works well also.
GINGERSNAPS
3/4 cup butter
3/4 cup CRISCO
2 cups sugar
1/2 cup molasses
4 cups flour
1/2 teaspoon salt
2 teaspoons baking soda
2 teaspoons cinnamon
2 teaspoons ginger
1 teaspoons ground cloves
1/4 teaspoon fresh grated nutmeg
sugar for rolling
Sift together flour, baking soda, cinnamon, salt, ginger, nutmeg and ground cloves. Set aside.

Cream butter and crisco together until smooth.

Add sugar and molasses, blending until smooth.

Add flour mixture gradually until well blended.

Chill dough for at least 1 hour.

Preheat oven to 375°.

Roll dough into small balls

Roll balls in sugar and place on cookie sheet.

Bake 8 minutes for soft chewy cookies and 12 minutes for crisp cookies.
AND the other is this wonderful no bake recipe: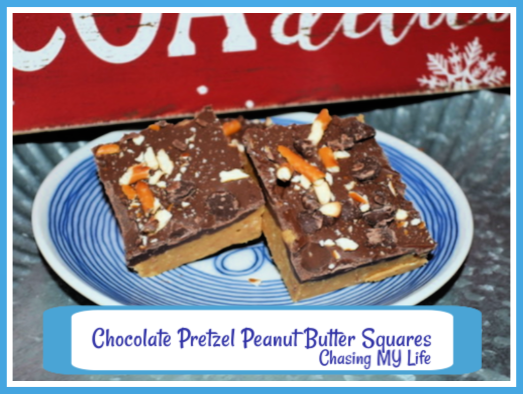 CHOCOLATE PRETZEL PB SQUARES
2 cups pretzels, crushed into crumbs
1 ½ cups powdered sugar
1 ¼ cups peanut butter
¾ cup butter, melted
1 ½ cups milk chocolate chips
½ cup Heath bit pieces
Spray 13×9 baking dish with non-stick cooking spray!

In a large bowl mix together the pretzel crumbs and powdered sugar until well blended.

Mix in melted butter and 1 cup of the peanut butter.

Press mixture evenly into the bottom of the baking dish.

Sprinkle evenly with Heath Bit pieces.

In a microwave safe bowl melt combine the remaining peanut butter with the milk chocolate chips. Heat at 30 second intervals, stirring after each until melted and smooth.

Spread over the layer in the baking dish.

Garnish with Heath bit pieces and broken pretzel bits.

Chill at least 1 hour before cutting.

Store in airtight container  in the refrigerator.
Then there are the tried and true favorites of the past!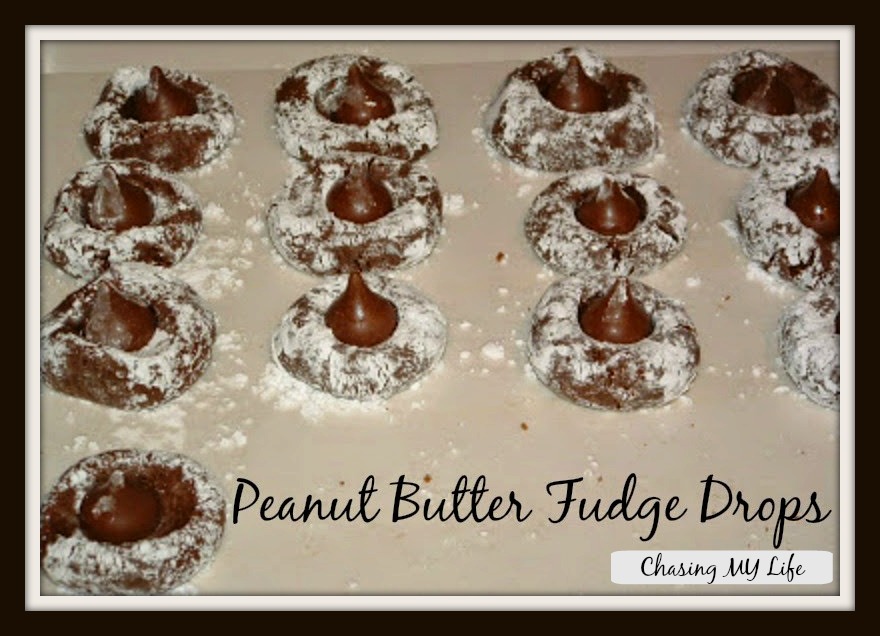 PEANUT BUTTER FUDGE DROPS
2/3 cup HOT water
10 ounces Land of Lakes cocoa mix
2 cups JIF creamy peanut butter
1/2 cup light corn syrup
3 cups C&H powdered sugar, divided 2cups + 1 cup
2 cups crushed vanilla wafers
2 cups crushed ginger snaps
72 Hershey Kisses (I like the cherry cordials)
Whisk together the hot water and cocoa mix until smooth.

Add peanut butter and corn syrup. Blend until smooth.

Add 2 cups powdered sugar and stir until well blended.

Stir in cookie crumbs until well blended.

Spray wax paper with PURE (these will be sticky so don't forget this step).

Drop heaping teaspoonfuls of dough onto the wax paper.

Place the remaining 1 cup of powdered sugar in a shallow bowl.

Roll each piece of dough into a ball and dredge in powdered sugar.

Press your thumb into the center and fill with a Hershey's kiss.
My great aunt's corn flake wreaths are not technically cookies, but they are a treat that I try to make often. My great aunt who I only got to see a couple times a year used to make these every year special for me.  My cousins and I would wait out on the front steps for her arrive just to see them, the wreaths that is. She always made them soooooooooo pretty and perfect!  Aunt Louise was just plain crazy it seemed to me.  I can't pinpoint any one thing that made me think that, but as the years wore she continually proved it.  Let's just say if the made a movie of her life, Shirley MacLaine would play her part.  Aunt Louise reminds me of Shirley's character Ouiser Boudreaux in Steel Magnolias.
CRAZY AUNT LOUISE'S HOLIDAY WREATHS  (these are better when they are made a few days ahead)
30 LARGE marshmallows (or 1 jar marshmallow cream)
1/2 cup butter
1 teaspoon vanilla
2 teaspoon green food color
3 1/2 cups cornflakes
Red Hots
Combine marshmallows, butter, vanilla and food color in top of double boiler. Heat and stir frequently until well blended.

Gradually stir in cornflakes until well blended.

Drop onto wax paper and arrange into wreath shapes. I plop them onto the wax paper and then push out from the center to form the wreaths.

Decorate with red hots.

Let cool.

If your house is warm – chill in refrigerator until set.
Another fun recipe that can be dressed up with colored sanding sugar are SEA SALT & CARAMEL RICE KRISPY TREATS.
SEA SALT & CARAMEL RICE KRISPY TREATS
8 cups Rice Krispies 
50 Kraft caramels  
1 can sweetened condensed milk 
1/4 cup + 1/4 cup unsalted butter 
1 bag mini marshmallows 
1 1/2 teaspoon vanilla extract  
3 teaspoons sea salt flakes
In a medium sauce pan over  a low-medium heat stir together the sweetened condensed milk, the caramels and 1/4 cup unsalted butter until smooth.

Remove from heat.

Line a 9×13 baking dish with foil, extending over the edge.  

Spray with non-stick PURE or PAM.

Melt butter in large sauce pan.

Add marshmallows and stir  until just melted.

Add vanilla, 1 teaspoon of salt and 1 cup of caramel sauce and stir until smooth.

Remove from heat.

Stir in rice krispies until evenly coated.

Press into pan**.

Cool completely.

Pour remaining caramel over rice kripy treats and spread even with a spatula.

Sprinkle remaining sea salt over top.

Enjoy!

Store in an airtight container.
NOTES:  **I use a stainless steel spatula that has been sprayed with PURE to keep it from sticking.  It helps to press down firmly to get an even level.