I recently caught an episode of The Kitchen and instantly fell in love with this recipe from Geoffrey Zakarian. Turnips are one of the MOST under utilized vegetables in my opinion.
I did make a couple of changes due to allergies and likes, but it is AWESOME! The pork doesn't appear seared in the picture, but it is – maybe too much flash too close! 😀 Turns out hubby doesn't care for cooked turnips, though he loves them raw with salt, but I LOVED it!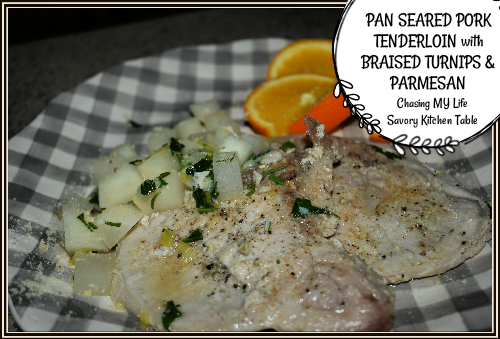 PAN SEARED PORK with BRAISED TURNIPS & PARMESAN serves 4
1 teaspoon ground cumin
1 teaspoon garlic salt 
1 teaspoon dried oregano 
8 thin bone-in pork chops 
FRESH ground sea salt and tri-color pepper
2 tablespoons avocado oil 
3 green onions, minced 
2 cloves garlic, minced 
1 cup turnip dice (1/4-inch), tops reserved (see note)
1/2 cup white wine 
1 cup chicken stock 
2 tablespoons unsalted butter 
1/2 teaspoon fresh tarragon or rosemary, minced 
1/2 cup grated Parmigiano-Reggiano
Chopped fresh chives, for garnish 
Combine the cumin, garlic salt, and oregano in a small bowl.

Sprinkle the pork chops on all sides with salt and pepper, followed by the rub.

In a large saute pan, heat the oil over high heat, then turn down to medium.

Add the pork medallions and sear until caramelized on one side, 2-3 minutes. Flip, then sear on the other side until the pork reaches an internal temperature of 150°, 2-3 more minutes.

Remove the pork and set aside covered with foil to rest.

Return the pan to the heat and add the scallions and garlic. Cook over low heat until softened, about 3 minutes.

Add the turnips and cook, stirring to coat the vegetables, for 1 minute.

Add the white wine and chicken stock, scraping up any brown bits on the bottom of the pan.

Bring to a simmer over medium heat and reduce by three-quarters, about 5 minutes.

Chiffonade 1/2 cup of the turnip greens and add to the sauce with the butter and tarragon.

Return the pork and any accumulated juices to the pan, turning to coat the pork chops.

Remove from the heat and top with the Parmesan cheese.

Divide among plates and garnish.
NOTE: Turnips in the stores around here are already trimmed of their tops so I substituted chiffonaded spinach leaves.