This recipe is adapted from Eliza Winograd Marley Spoon and provides a hearty and complete comfort meal with rustic mashed potatoes, flavorful chicken with its sweet and tart apple with a creamy sauce and crisp tart salad as a companion. The recipe as written didn't have enough OOOMPH for us (it was actually quite bland), so I OOOMPED it up a bit 😀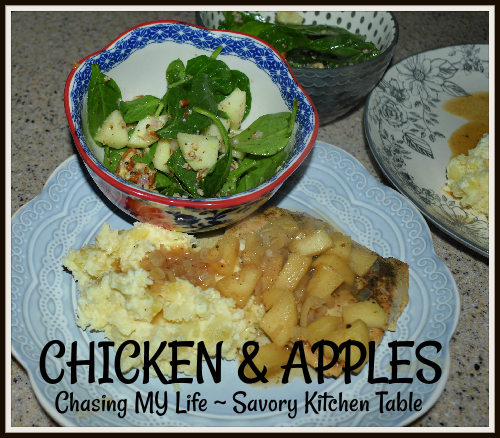 CHICKEN & APPLES over Mashed Potatoes with Spinach Salad
SALAD & DRESSING
2  cups torn baby spinach
1 1/2 tablespoons avocado oil
2 tablespoons champagne vinegar
1 tablespoon FINELY diced shallot
1 Granny Smith apples, peeled, cored and diced into 1/4 inch cubes
FRESH ground sea salt and black pepper
1/4 cup chopped walnuts or pecans, toasted if desired
In a medium bowl, whisk together 2 tablespoons oil, 2 tablespoons vinegar and 1 tablespoon of the chopped shallots.

Season to taste with salt and pepper.

Set aside.

Just before serving, toss spinach leaves and chopped apple, nuts and dressing.
POTATOES
1/4-1/3 cup sour cream
2 Yukon gold potatoes, peeled and large diced
2 tablespoons butter
FRESH ground sea salt and black pepper
Place potatoes in a small saucepan with 1 teaspoon salt along with enough water to cover by 1-inch.

Bring to a boil, then simmer until tender, about 15 minutes.

Drain, return to pot, add 2 tablespoons butter and keep covered. 

CHICKEN
1 teaspoon Dijon mustard (see note)
2 teaspoons BETTER THAN chicken concentrate
1 teaspoon onion powder
1 teaspoon poultry seasoning
1 teaspoon salt + FRESH ground sea salt and black pepper
3/4 pound boneless, skinless chicken breasts or tenders
1 Granny Smith apples, peeled, cored and diced into 1/4 inch cubes
1 shallot, FINELY chopped
3 cloves garlic, minced
1 tablespoon avocado oil
1 + 1 tablespoons butter
1 tablespoon WONDRA flour
1 cup water
Pat chicken dry and generously season all over with a mixture of the onion powder and FRESH ground sea salt and pepper.

Heat 1 tablespoon oil and 1 tablespoon butter in a medium skillet over medium-high.

Add chicken until well browned on both sides but not cooked completely through, 2–3 minutes per side. 

Transfer chicken to a plate and keep warm.

Melt 1 tablespoon butter in reserved skillet over medium-high.

Add apples, garlic and the remaining shallots and cook, stirring occasionally, until well browned and slightly softened, 3–5 minutes.

Sprinkle flour over skillet and cook 30 seconds.

Whisk together water, chicken concentrate and Dijon mustard. Add to skillet, gently stirring and scraping up any browned bits from the bottom.

Return chicken to pan, simmering 5-7 minutes until chicken is cooked through, apples are tender and sauce has thickened.


Return saucepan with potatoes to medium-high and add sour cream and 2 tablespoons butter. Coarsely mash using a fork or potato masher.

Season to taste with salt and pepper.

Serve chicken with apples and sauce spooned over top with mashed potatoes and salad alongside.



NOTE: I substitute a creamy horseradish for the Dijon due to an allergy that works well for me, but the flavor base is up to you 😀