The meatball mixture can be made ahead of time you can even shape them like I did into squares using my Joie silicone ice cube tray and then store them in an airtight container in the refrigerator until you're to ready to use them.
Adapted from Marley Spoon's Anna Painter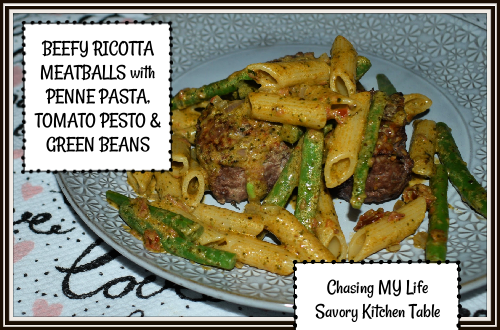 BEEFY RICOTTA MEATBALLS with PENNE PASTA, TOMATO PESTO & GREEN BEANS
4 ounces sun dried tomato pesto
2 ounces (regular) pesto
2 ounces cream cheese
2 cups (dry) penne pasta
1/4 cup panko crumbs
4 ounces ricotta
scant 3/4 pound ground beef
2 tablespoons FRESH chopped parsley
½ pound green beans
1 small shallot, FINELY chopped
FRESH ground sea salt & ground pepper
avocado oil
1 tablespoon butter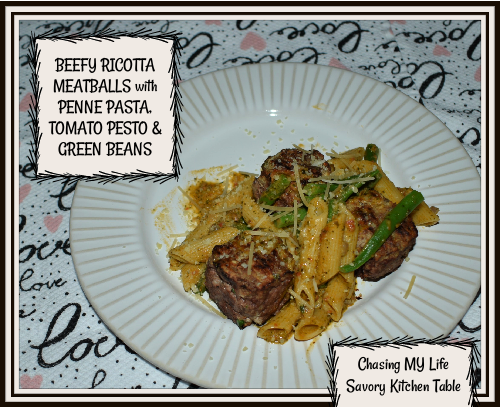 Preheat oven to 450° and arrange rack into the center position.
Bring a medium pot of salted water to a boil.
Trim green beans, then cut or snap in half.
Finely chop parsley leaves and stems.
In a medium bowl, combine ground beef, ricotta, panko crumbs, 1 tablespoon of the chopped parsley, FRESH ground sea salt and pepper to taste. Gentle knead to blend.

Shape beef into 6-8 meatballs of about 2 tablespoons each. Choose your shape round or square – I use square if I'm making them in advance because I use silicone molds to freeze them in.
Transfer to a rimmed baking sheet and drizzle with oil.
Bake on center oven rack until browned on the bottom and cooked through, 10–12 minutes.
While meatballs bake, add pasta to boiling water and cook, stirring occasionally, until almost al dente, about 8 minutes.
Add green beans to the pot with the pasta, and continue cooking another 4 minutes until pasta is al dente' and green beans are tender. Reserve 1 cup cooking water, then drain pasta and green beans.
Place drained pasta and beans over the butter in a bowl. Toss to coat.
Return the pot to the burner and add oil in same pot over medium-high.
Add shallots and a pinch each of salt and pepper; cook 2 minutes, stirring, until softened.
Add cream cheese, pesto, sun dried tomato pesto, and reserved cooking water.
Cook, whisking, until cream cheese is incorporated and sauce is smooth, about 1 minute.


Add pasta, green beans, and half of the parsley to pot with sauce.
Cook, stirring, until pasta and green beans are coated well.
Add meatballs to pot and gently stir to combine.
Garnish with remaining parsley.