This is the French onion soup you eat with a fork! Caramelizing the onions takes the longest, but is the savoriest part of this meal! Don't try to rush this process or you'll ruin that cheesy goodness that will give you your comfy, cozy meal for a cold winter's night!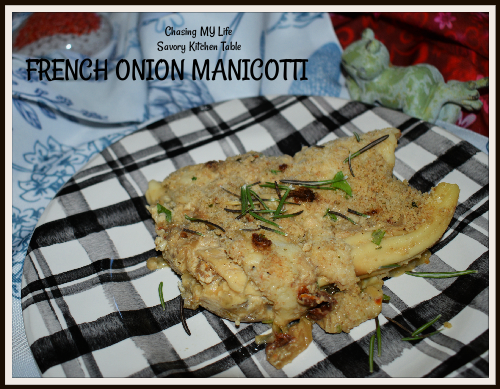 FRENCH ONION MANICOTTI serves 4-6 depending on appetite
4 sweet Vidalia onions, thinly sliced
4 tablespoons unsalted butter
FRESH ground sea salt and black pepper
1 teaspoon sugar
1 tablespoon FRESH chopped thyme
2-3 garlic cloves, minced
1 box manicotti shells
2 cups ricotta cheese
1 large egg
1 cup grated Gruyere cheese
¼ cup grated Parmesan cheese, plus more for topping
1 tablespoon WONDRA flour
1 ½ cups chicken stock
⅓ cup heavy cream
1 cup grated Mozzarella cheese, for topping
1 tablespoon butter
1/3 cup seasoned breadcrumbs, for topping
FRESH parsley or thyme for topping
Melt butter in a large cast iron (or oven safe) skillet over medium heat.

Add onions.

Sprinkle with FRESH ground sea salt, black pepper, sugar and thyme. Cook, stirring often, for 30 minutes until the onions caramelize, BUT watch them closely so they don't burn! Turn down the heat as necessary.

Once caramelized, add garlic, sauteing 30 seconds more.

Turn off the heat, but leave them in the pan.


While the onions are cooking, bring a pot of salted water to a boil and cook the manicotti shells 6 minutes to al dente'. Drain and carefully place them on a piece of foil coated in non stick spray to cool.


Preheat the oven to 400°.


In a large mixing bowl, stir together the ricotta cheese, egg, Gruyere cheese, Parmesan cheese and a pinch of salt, pepper and dried thyme.

Add half of the caramelized onions from the pan and stir them into the ricotta mixture to create your filling.

Fill each shell with the filling, stuffing it full, but not overflowing.


Turn the heat to medium-low under the remaining onions in the pan.

Stir in the flour and cook for 1 to 2 minutes.

Slowly stream in the stock while stirring, cooking for 2 to 3 minutes while the mixture thickens a bit. Stir in the cream.

Turn off the heat and place the shells in the french onion sauce.

Melt the butter and whisk in the breadcrumbs with a fork until evenly coated.

Top with the Mozzarella cheese followed by the breadcrumbs mixture.

Bake for 20-25 minutes, until golden and bubbly.

Serve immediately with a Parmesan and fresh herb garnish.
NOTE: I often add chopped sun dried tomatoes.